In Chinatowns all over the world, Chinese and Au-Lacese are ushering in a new vegan Lunar New Year of the Ox.
The hard working ox, a symbol of honesty, righteousness and piety..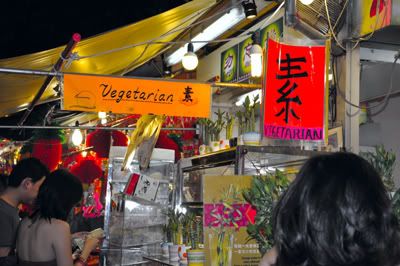 May we treat all animals fairly in this year, sparing their lives and choosing the noble way of the Saints. We live and we let other beings live. By saving the world, and we save ourselves.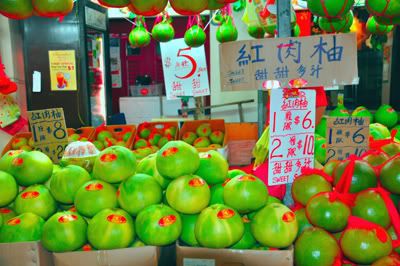 Pomelo a seasonal spring fruit, with sweet juice comes in red or white variety.
All along the street, more and more people are selling vegetarian Lunar New Year goodies. That is a good omen for all of us..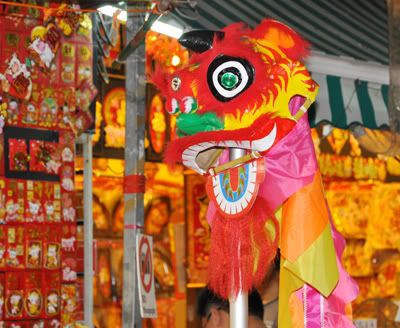 The Chinese lion, foretelling courage to change.. change your life, be loving and kind..
Labels: vegan
Lasm's story told @1:11 AM
Suntec City adorned with decorations to greet the Lunar New Year.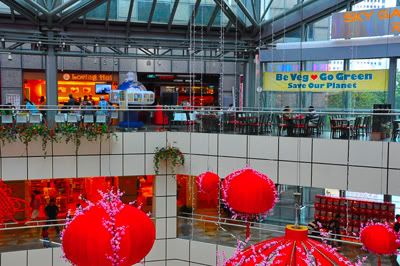 It's time for celebration. For a new beginning. A Happy Vegan Lunar New Year..
Go Veg. Be Green. Save the planet.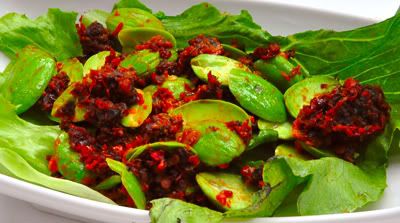 At Loving Hut, we sampled the petai meal, which is also known as smelly bean. It's a local favourite that comes with red, hot chilli spice.
Labels: loving hut
Lasm's story told @12:55 PM
In the tradition of Lunar New Year, there is a very important vegan dish which is being served, that symbolizes all that is good and wishful for the New Year.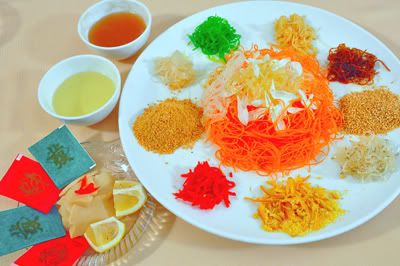 This dish is known as the Prosperity Dish or the Toss Up Salad "Lou Hei".
And here are the purely vegetarian ingredients, no meat at all.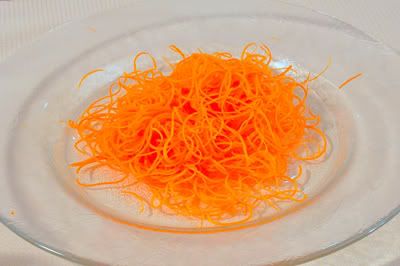 The main ingredients shown here is the carrot shreds, cut into many thin slices just like a fine noodle strands.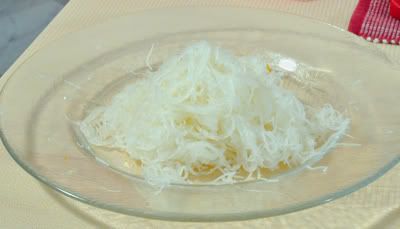 And the other main ingredient, the white turnip as well as green turnip. This is also sliced very thinly.
Labels: cooking show
Lasm's story told @12:01 PM
人类的祖先本来是从光音天降下来的。
在远古的时代,当人们还是光音天天人的时候,生活十分舒适,
不食人间烟火,无忧无虑地在天空飞翔,后来为了好奇,一些光音天的天人来到地球上,受到各种景物诱惑,开始品尝各类食物,并定居在地球上。天人开始吃肉,受因果缠身,终于无法了脱生死轮回,因果报应,变成凡夫,再也无法飞翔,回到光音天去。
一切的罪恶,都是由于吃肉造成的。吃肉的恶果,是多么的可怕啊!
Lasm's story told @12:25 AM
华人过年有个习俗-大年初一要吃素!为新的一年讨好运。
不只是过年,每个月的初一十五都有很多人吃素.
华人也有为死去的亲人吃斋的习俗,相信是受佛经里光目女,目犍连救母的故事所影响吧!
可是为什么每个月只当两天的圣人,其他日子又回到凡夫的等级,吃喝玩乐,每天张开血盆大口,鸡飞狗跳,神泣鬼嚎地任意残杀动物呢?
Lasm's story told @12:00 AM
It's Lunar New Year around the corner. Loving Hut Singapore is offering a special promo for the traditional Chinese good luck Lunar New Year salad toss.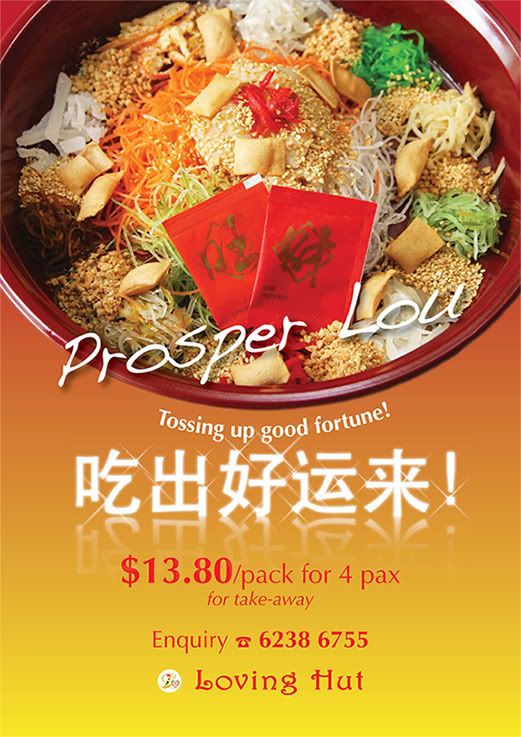 Labels: loving hut
Lasm's story told @12:35 AM
On Lunar New Year Day, January 26 2009, Vegan World Radio will interview Supreme Master Ching Hai on global warming and its solution.
Time : 11:25 am Local Central Standard Time in Texas USA,
6:25 pm Central European Time
1:25 am Tokyo Time
2:20 am Sydney Following Day (January 27)
12:23 am Taipei Following Day (January 27)
Vegan World Radio is broadcast at KPFT 90.1FM,
based in Houston, Texas, USA.
Check out their
website here
or
Vegan World Radio
.
Supreme Master Television will broadcast the interview with multi-language subtitles on a latter date.
Lasm's story told @11:17 AM
Catering service with delivery is available from Loving Hut Singapore. Please call for enquiries.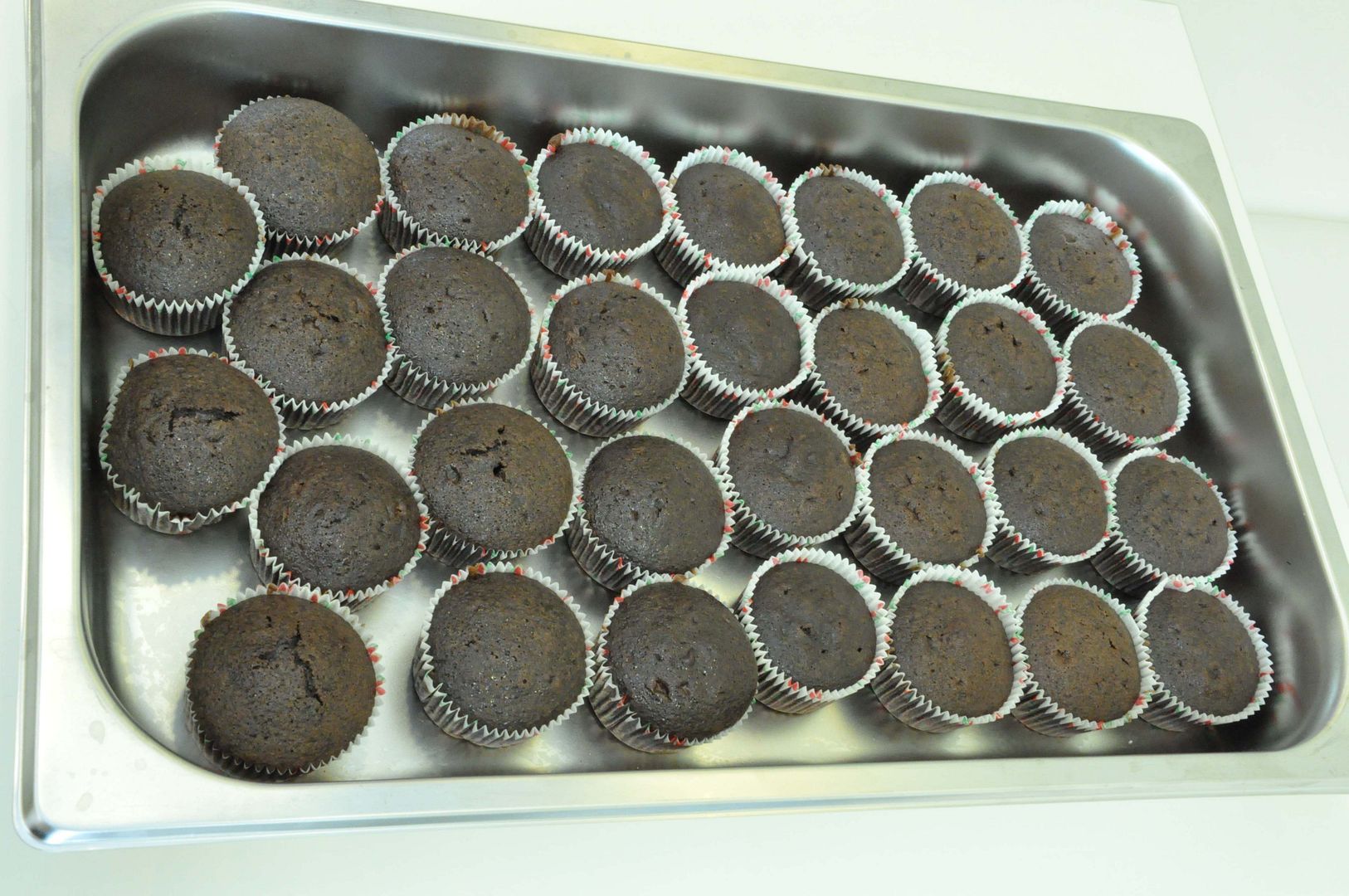 Vegan chocolate cup cake for a healthy and delicious break fast free from animal cholestrol.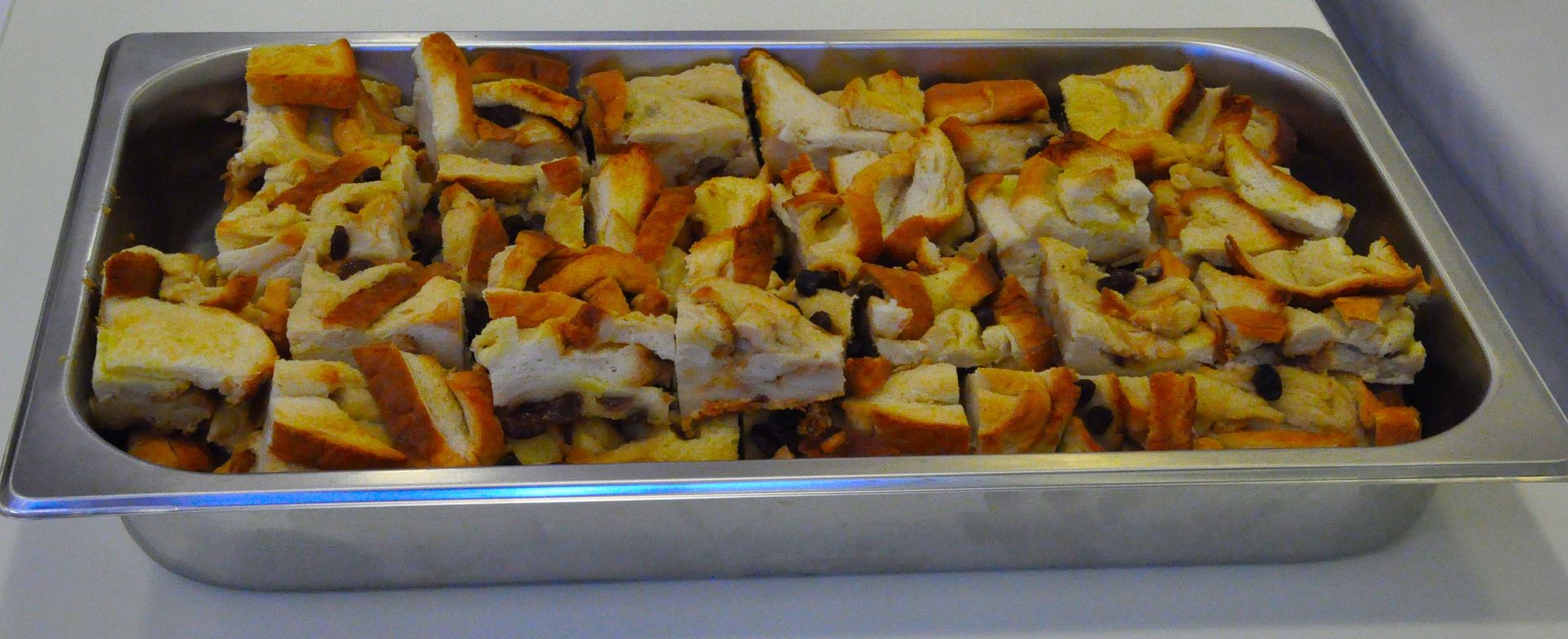 Cake or bread for you ?
A great way to start the day with a cup of coffee or tea.
Labels: loving hut, vegan
Lasm's story told @8:59 PM
Latest news flash from Supreme Master Television.
Following from the recent discovery by NASA scientists of the existence of methane gas on planet Mars, Supreme Master Ching Hai was asked about Mars people during the recent video conference with Supreme Master Television staff on 18 January 2009.
Supreme Master Ching Hai revealed that Mars had experienced climate change many years ago similar to what Earth has experienced now, but the Mars people did not change their diet habit in time to save Mars. Only about 0.2% of Mars population, comprising of virtuous, vegetarian people survived to this day by hiding in underground caves.
New Year messages from the people residing on the interior of Mars, as relayed to Supreme Master Ching Hai
The Counsel of the people of Mars : "Be Virtuous".
The Chairman of the people of Mars : "Save your home before it's too late."
Labels: news, Supreme Master Ching Hai
Lasm's story told @12:14 PM
Supreme Master Television has moved to a new transponder.
Effective from January 20th, 2009, North American viewers can watch Supreme Master Television on the new transponder Galaxy 19
Please watch Supreme Master Television on G19 @ 97 degrees West
Transponder 20
Frequency 12060 MHz
Polarization Horizontal
Symbol Rate 22000
FEC 3/4
Labels: news
Lasm's story told @12:30 AM
Here's a look at the recently concluded SOS Global warming exhibition held at Suntec City Loving Hut.
Many thanks to Loving Hut and Pangat Authentic Indian Cuisine. Both restaurants very kindly sponsored this exhibition event to raise Singaporean's awareness of the disastrous effects of global warming and the critical link between climate change and the meat-based diet.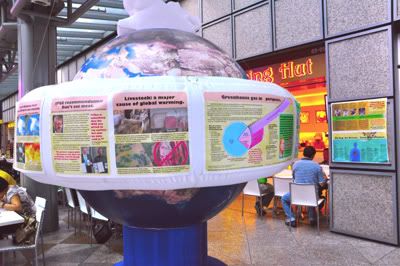 Many people shopping at the Suntec City Mall were attracted to the imaginative decor of the exhibition and stopped by for a meal. They were given SOS flyers and watched the Supreme Master Television which was set up at a corner of the venue.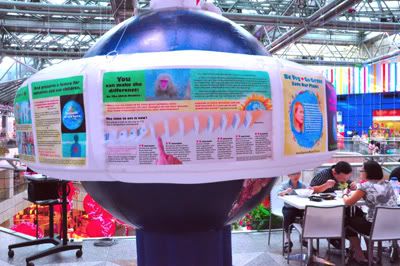 May many more Singaporeans become aware each day of the critical state of our planet, and make the new year resolution to Be Veg and Save our planet !
Labels: loving hut, save the earth, suntec
Lasm's story told @2:51 AM
Beautifully decorated Rose Milk Tea is a pleasure to drink it while still hot..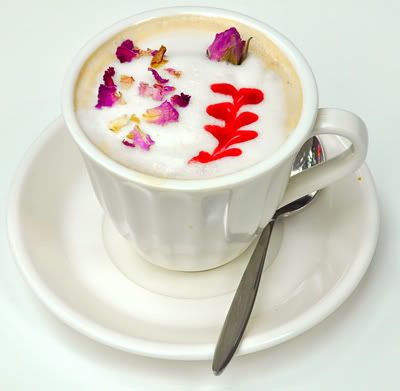 The big Christmas tree that adorns the CitiLink greets us on the underpass leading to Suntec City..
This area is teeming with office workers, tourists and shoppers alike. There are many attractions within the City and around it, and surely Loving Hut is one of the draws that kept us coming here.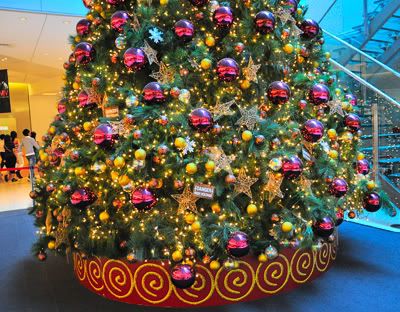 Labels: loving hut, suntec
Lasm's story told @1:24 AM
To watch Supreme Master Television for Middle East and North Africa continent viewers, please switch to the following settings.
Effective from December 20th 2008, Supreme Master Televisin will broadcast on the new transponder.
Eurobird 2 @ 25.5 degrees East
Transponder 158
Frequency 11662 MHz
Polarization Vertical
Symbol Rate 27500
FEC 3/4
Labels: news
Lasm's story told @12:28 AM
Loving Hut, the vegan restaurant opens in Malaysia on December 2008.
The address is :
15, Jalan Puteri 2/7, Bandar Puteri Puchong, 47100 Puchong, Selangor.
Tel: 03 80761811 Fax: :03 8064 2138
Singaporeans heading north towards Kuala Lumpur will be pleased to know
that there is a new vegan restaurant nearby.
So if you are touring KL, shopping at MegaMall or bringing your kids to Sunway Lagoon,Mines Wonderland etc.. do make a small detour to
Bandar Puchong Puteri
. It is approximately within a 5 km distance away from these attractions.
Welcome Malaysians !! We look forward to see many more locations in your country.
Labels: loving hut, news
Lasm's story told @2:35 AM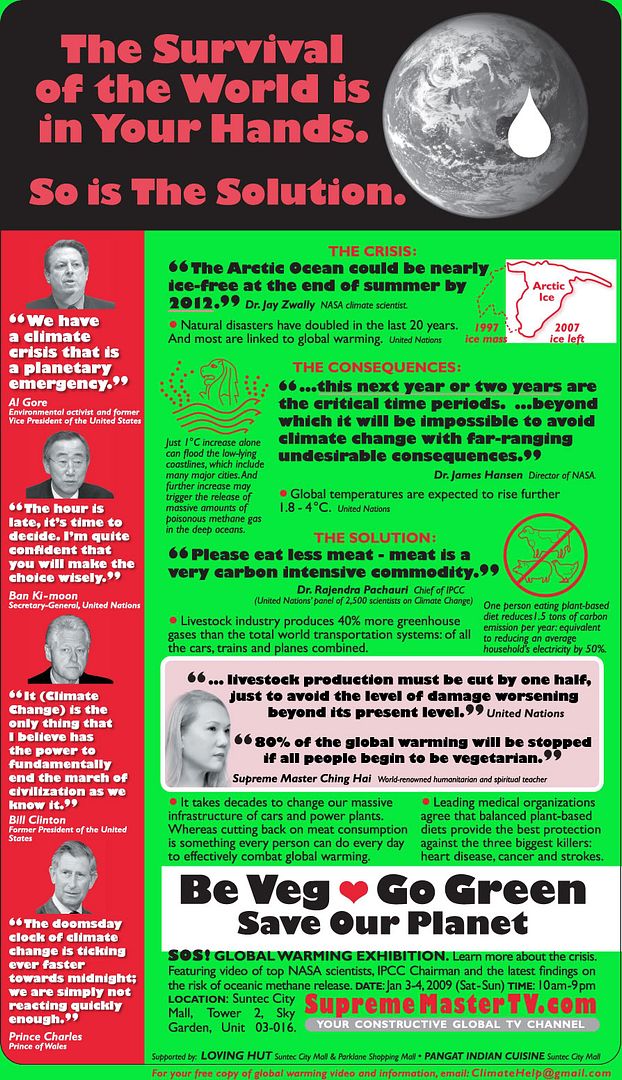 The Survival of the World is in Your Hands. So is The Solution.
Learn more about the climate crisis that our planet is facing now and the solution to save lives and our planet.
Featuring exhibits and videos of interviews with top NASA climate scientists, Chief of IPCC (United Nations' Panel of 2,500 scientists on Climate Change) and the latest findings on the risk of oceanic methane eruption with the warming of oceans.
Date: 3 - 4 Jan 2009 (Saturday - Sunday)
Time: 10am to 9pm
Location: Loving Hut at Suntec City Mall, Tower 2, Sky Garden, Unit 03-016
Be Veg. Go Green. Save The Planet
Lasm's story told @12:35 AM
Namaste !
May the New Year bring New Resolution and New Hope to the World !!
Now is the time to put your resolution to action..
"Oh God, please give me the strength to turn vegetarian in 2009.
I have read and understood the message of the Masters throughout the
ages, and I am ready to step forward in my next level of evolution.
Dear God, please bless me that I may be lifted up in my
consciousness, give me the courage and help me to keep my hands free
of animal's blood. May all my actions, speech and thought be worthy
in Thine eyes. May all beings live in peace and harmony."
Lasm's story told @12:00 AM