Morning of the third day, we wanted a walking tour of the city, so the best mode of transport happened to be right at the door step of our hotel, facing the turnaround of the cable car Powell-Mason line and directly across the street from Westfield Loving Hut. We joined the long snaking queue and chatted with an Austrian tourist on her first visit to San Francisco..
No sooner had we wondered whether we had to purchase a ticket then some kind tourists pointed out the ticket booth for us just outside our view along market and 5th. So we had to join another long and growing queue at the ticket booth together with our Austrian friend.
Finally we had our day tickets, hopped on the Powell-Mason line and two stops away at the street junction we were off the cable car, our tickets still brand new.. Along O'Farrell we had a pleasant stroll and it was little sister who first noticed the familiar old sign of the vegan Golden Era in this new Golden Age.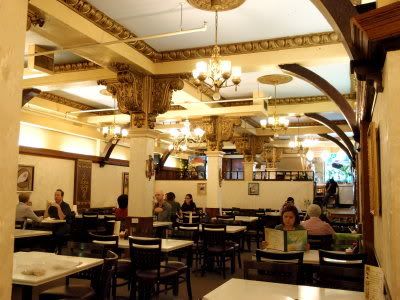 This is the view looking at the arguably oldest vegan restaurant West of the Bay Area from the vantage point of the table of honour, a well liked corner of the restaurant distinguished by an overhead Celestial lamp hanging from the ceiling.
We had already seen the owner outside, waiting for him to be relieved of his work to join us at the table.. Lunch was easy to order, we had the best dishes from the restaurant served at our table.
Very soon another vegan friend joined us and it was reunion time, with cups of Chinese tea being poured endlessly just like in the good old times again.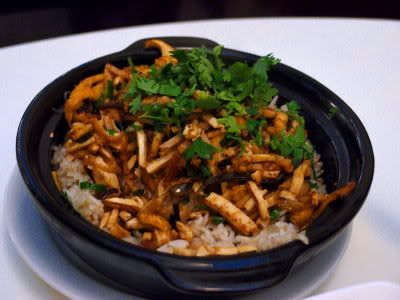 We talked of our relationship going back so many years, and we chatted on the development of Loving Hut around the Bay Area.. so much to share and so little time to do it..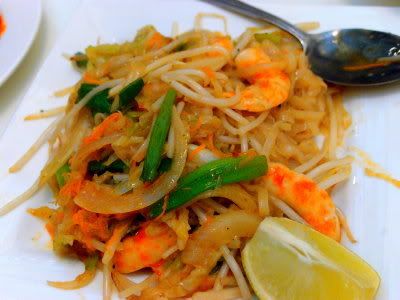 We had also ordered the vegan Pad Thai, over and above the recommendations made by the owner, because we wanted to compare the taste with the Vegetarian House. Little sister remembered it was dry by the time we were served at the Vegetarian House, but here at Golden Era, the Pad Thai was a perfect vegan dish. We gave it full marks secretly... Of course, little sister's taste was pampered by the undending serving of different flavoured cakes... ask and it shall be served..
We bade the owner farewell as we travelled on the next leg of our trip, this time riding on the electric Jeep..
Labels: Golden Era, usa, vegan
Lasm's story told @7:15 PM