Smiling Dumplings !! Is this our favourite at Loving Hut Suntec City or what ?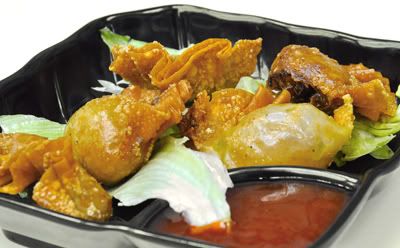 Anything crunchy and delicious for a quick vegetarian snack, anytime.
The season's mood to celebrate one of the greatest past enlightened Master, Jesus Christ, on his birthday is accentuated by hanging Christmas tress at Sky Garden, Suntec City Mall.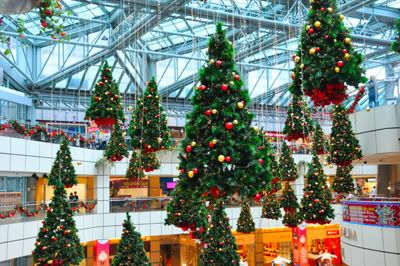 Labels: loving hut, suntec
Lasm's story told @12:05 AM
Greeting, precious people!
On these magical days of Christmas and coming New Year,
I would like to thank you for all the good things you've done in your past, Association members and non-members alike. Wishing mighty blessing from Heaven to shower upon you and cherished ones.
Especially I thank my loyal and faithful friends whose love and courage have sustained goodness on Earth and charmed the mercy from Heaven.
And I thank you for all the support and shared ideal that maybe we just can make this Earth a better place or even a heavenly place.
Personally I know some of you but not all of you.
However, I know you are the best friends that anyone could ever ask for – wish I have the chance to thank you and embrace you all in person.
If the planet survives, it's because of your love, because of your heroic dedication.
Pray that your shining example will lead everyone to hope, confidence and emulation,
so that together we can rebuild not only our planet but goodness in human's heart.
We will continue to work toward an ideal and peaceful tomorrow.
I have no worthy present to give such noble friends this Christmas.
But if you ask what gift pleases me, I would say, "I WANT THE PLANET."
May you continue to be a beacon of lofty splendor, befitting the children of God.
WITH TEARS OF GRATITUDE.
CHING HAI
Labels: Supreme Master Ching Hai
Lasm's story told @12:34 AM
Herbal brown rice set at Loving Hut Suntec Singapore !!
5 great spices in the brown rice, topped with vegan ham, you have to taste carefully to notice the difference!!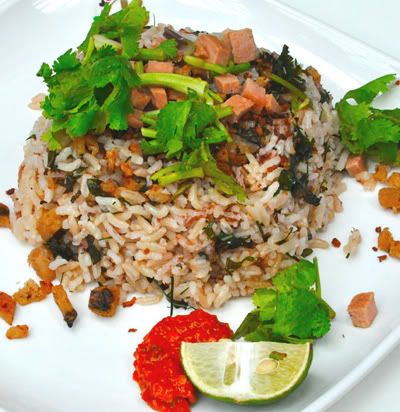 The healthy vegan brown rice set comes with a clear soup.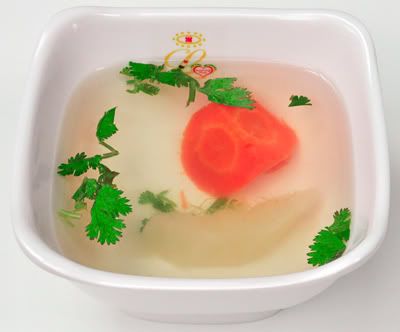 Labels: loving hut, suntec, vegan
Lasm's story told @2:17 AM
What better way to celebrate Christmas than to present another one of Supreme Master Ching Hai's heavenly design - the longevity lamp named Heaven Lotus.
This lamp belongs to the standing lamp series, and features an already open lotus rising out from the mud of samsara, pure and unadulterated with its brilliant thousand rays of sunlight.
The lamp is made of bamboo material and is a joy to behold. At the center a bright light lite by a round bulb, with many smaller colored lights surrounding the main light. There is a small pull string which enables you to switch on the main light only or with the accompanying mult-colored lights.
The design is simple, pure, elegant and joyful. Just like the lotus flower, we should aspire to return to our heavenly abode by developing our spiritual self until it flowers like a heaven lotus.
The 5 petals open out beautifully in a warm welcome to the spiritual seeker signifying its exalted state of consciousness.
Labels: art, d90, Supreme Master Ching Hai
Lasm's story told @12:38 AM
On Christmas Day, Supreme Master Ching Hai will demonstrate simple and nuitritious cooking. Be sure to catch the Christmas vegan cooking special show... Make a date with Surpeme Master Ching Hai !!
The dishes that will be presented include the appetising
1) Vegan Roasted Ham with tofu, pumpkin and pineapple,
2) Vegan Yorkshire Pudding with gravy
3) Boiled fresh vegetables and fruits
Labels: cooking show, Supreme Master Ching Hai
Lasm's story told @2:37 AM
Here's what every kid will love to eat at Loving Hut..
Vegan Grilled Burger !!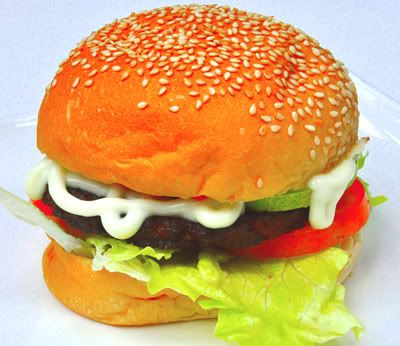 Oh.. it taste so nice.. there's vegan cream to top it off.. Definitely little rabbit's favourite, she's coming again to Loving Hut because of the burger !
Outside at the entrance of Suntec City Mall, we witnessed a gigantic christmas tree growing all the way to the roof top ...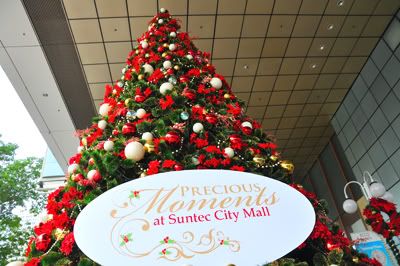 Labels: loving hut, suntec, vegan
Lasm's story told @12:27 AM
Irish Independent newspaper publishes interview with Supreme Master Ching Hai today on 17 December 2008. Look out for the Earth section.
Be sure to grab a copy of the paper available at all news stands and airports around Ireland and United Kingdom. This interview is conducted by journalist Andrea Bonnie earlier on 21 November.
Just a few days ago on 8 December, Ireland
recalled all beef products
it has exported to more than 10 countries due to dioxin poisoning found in Irish beef. Countries affected included Asian countries such as China and Singapore.
We hope that Ireland will be the first nation in the world to ban beef and all meat products !! Hurray to Ireland !! The world's hopes rest on you !! Be our hero !!
Labels: news, stop eating meat
Lasm's story told @9:31 AM
Today the second Loving Hut Singapore has its soft launch.
It is located at Parklane Shopping Mall, 35 Selegie Road, #01-07, Singapore 188307.
Landmarks around this place is the Peace Center next door, the old Cathay cinema further down the road, and the Singapore Management University, School of Economics and Social Sciences at Bras Basah Road is not too far away.
Dhoby Ghaut MRT is within walking distance, if you are coming by train.
You can expect more posts and food tasting will be published here at this blog.
Three Cheers for Loving Hut Singapore !!!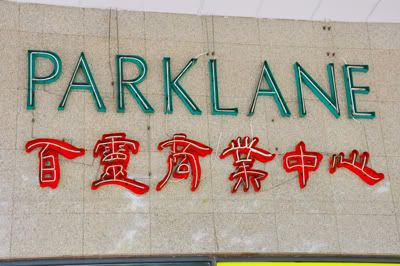 Loving Hut is at the left of the Parklane main entrance.. just besides the DBS ATM, so you can pay using cash only.. how convenient !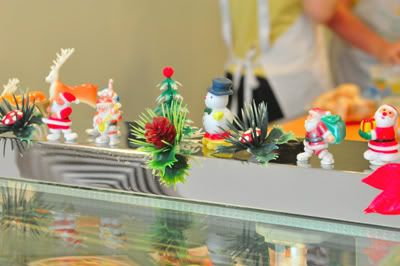 Special Christmas vegan log cakes are on sale too ! Don't miss it..
Here's a look at the kitchen staff busy preparing the food for the guests today.
Check out more photos at
I will save the Earth blog
.
Labels: loving hut, parklane, singapore
Lasm's story told @4:45 PM
We ordered the cold drink Earl Grey Milk Tea at Loving Hut, Suntec City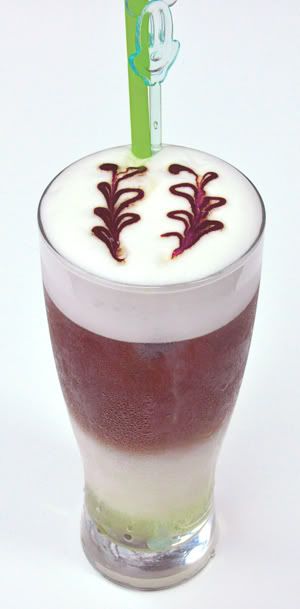 It's a vegan drink, with soy milk replacing cow's milk.
Looking outside, we saw the decoration at Suntec City..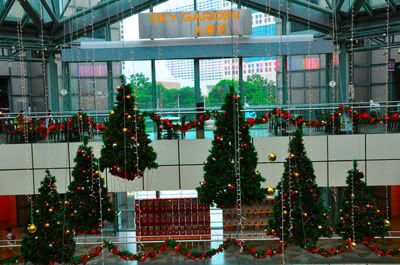 It looks like the whole city is getting ready to greet the coming Christmas, and people are getting ready to spend serious money in this shopping season..
Have they lost the sense of the real celebration ? Is it all about spending ?
How far have we strayed from God's commandments.. We wondered what is ticking in the minds of people still killing animals every single day with their meals.. We prayed that they will all wake up in time, and then we shall celebrate the real Christmas ! A vegan Christmas !!
Labels: loving hut, suntec, vegan
Lasm's story told @12:39 AM
It's Christmas season around the corner, here in sunny Singapore, and we are heading to Loving Hut at Suntec City for a nice vegan meal.
Loving Hut
Suntec City Mall, Sky Garden
#03-016 @ Tower 2
Tel: 6238 6755
Here's what we order at Loving Hut..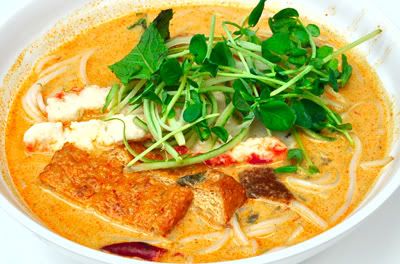 Laksa !! A local favourite! A dish of spicy and delicious noodle in rich curry soup. All vegan. And all goodness. There are no prawns to kill and de-shell, only vegetarian ingredients here. A meal that will save the planet.
Suntec city mall is bedecked with Christmas decoration. Here's what we saw on the way to Loving Hut..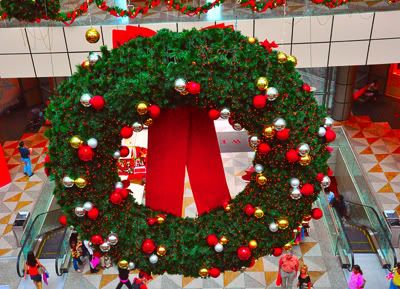 Labels: loving hut, suntec, vegan
Lasm's story told @1:07 AM
Research has shown that eating meat can cause some of the following diseases:
High blood pressure
Heart disease
Diabetes
Stroke
Parkinson's disease
Bladder cancer
Colon cancer
Prostate and ovarian cancer
Lung, skin and kidney cancer
Breast cancer.
Blue tongue disease
E coli
Salmonella (over 2300 types possible)
Bird flu
Mad cow disease (Bovine Spongiform Encephalopathy)
Pig's disease (PMWS)
Shellfish poisoning
Listeriosis
Pre-eclampsia
Campylobacter
PLUS MORE…
Labels: bad karma, climate change, stop eating meat
Lasm's story told @12:30 AM
Hsihu Ashram is celebrating its 20th Anniversary.
A new book called "Celestial Art" will be launched to celebrate the 20th year of the founding of Hsihu Ashram by Supreme Master Ching Hai.
This book will detail all the wonderful artistic accomplishments of Supreme Master including poetry, paintings, stone paintings, longevity lamps, celestial jewelry and songs.
The book will launch in US on 12 December with a video conference and Supreme Master Ching Hai is the guest of honour.
Simultaneously at Formosa the book will be launch to Chinese audience on 13 December.
More details will be broadcast from
Supreme Master Television
soon.
We will also feature a series of Hsihu posts here in this blog.
Lasm's story told @7:52 PM
News flash from
Supreme Master Television
...
You can now
circum-navigate the North Pole
in a ship !!
Scientists analyzing satellite photos have discovered that the ice cap surrounding the Arctic have melt sufficiently to allow a ship to sail around the North Pole, for the first time in 125,000 years ( one hundred and twenty five thousand years )..
This is the first time it has happened in human history.
If you are reading this, please go vegetarian / vegan now to save our planet.
Go Vegetarian, Be Green, Do Good To Save The Earth
Go Vegetarian, Be Green, Do Good To Save The Earth
Labels: climate change, news, save the earth
Lasm's story told @4:24 PM
In this post we take a look at the beautiful art work of Supreme Master Ching Hai.
This is a series of longevity lamps designed by Supreme Master.
This ceiling lamp is called Taichi. It is made of bamboo and very beautiful.
You can see the symbol of Tao in this lamp, the positive and the negative. The radiant light shining within the lamp is above the world of duality.
Supreme Master Ching Hai also designed a set of jewelrey with the Tao symbol, which complements this lamp design.
Taichi in Chinese means the Great Beginning. It also means the primordial archetype in Jungian psychology terms.
Photographed with Nikon D90.
Labels: art, d90, Supreme Master Ching Hai
Lasm's story told @2:45 AM
Conserve up to 70% clean water
Save over 70% of the Amazonian rainforest from clearance for animal grazing
A solution for world hunger:
Free up 3,433 million hectares of land annually
Free up 760 million tons of grain every year (half the world's grain supply)
Consume 2/3 less fossil fuels than those used for meat production
Reduce pollution from untreated animal waste
Maintain cleaner air
Save 4.5 tons of emissions per US household per year
Stop 80% of global warming
PLUS MORE…
SAVE YOUR LIFE:
GO VEG. BE GREEN.
Labels: good karma, save the earth, vegan, vegetarian
Lasm's story told @12:37 AM
Lower blood pressure
Lower cholesterol levels
Reduce Type 2 diabetes
Prevent stroke conditions
Reverse atherosclerosis
Reduce heart disease risk 50%
Reduce heart surgery risk 80%
Prevent many forms of cancer
Stronger immune system
Increase life expectancy up to 15 years
Higher IQ
Labels: climate change, good karma, save the earth, vegan, vegetarian
Lasm's story told @12:35 AM
HEART DISEASE
Over 17 million lives lost globally each year
Cost of cardiovascular disease is at least US$1 trillion a year
CANCER
Over 1 million new colon cancer patients diagnosed each year
More than 600,000 colon cancer-related mortalities annually
In the United States alone, colon cancer treatment costs about US$6.5 billion.
Millions of people are newly diagnosed with other meat-related cancers every year.
DIABETES
246 million people are affected worldwide
An estimated US$174 billion spent each year on treatment
OBESITY
Worldwide 1.6 billion adults are overweight with 400 million more who are obese
Costs US$93 billion each year for medical expenses in the United States alone
At least 2.6 million people die annually from problems related to being overweight or obese
ENVIRONMENTAL
Use up to 70% of clean water
Pollute most of the water bodies
Deforest the lungs of the Earth
Use up 90% of the world's cereal
Cause world hunger & wars
80% cause of global warming
PLUS MORE…
Supreme Master Ching Hai
February 28, 2008 - Austria
MASTER: Suppose you know something is poisonous to your children; will you deliberately give it to them, to harm them? No! So now all the evidence points out that meat is also poisonous and alcohol is bad. Just ban them outright. There's no more discussion.
Make it your mission in life, to inform people about the danger of eating meat, and show them the solution.
Labels: bad karma, save the earth, stop eating meat
Lasm's story told @12:33 AM
The day I met you first
Was the day of my birth
Pink and round, me oh so plump
With Mom I gaily frolicked.
Lovingly you looked at me
Praising, "Oh, so round, what a cutie!"
Every day you came by to visit
Bringing cool water and delicious veggie treats.
Mommy and I were so touched
Your kindness worth more than gold
I lived a peaceful life
Under your care and protection
Growing more plump with each passing day
Just eat, rest and play…
So lovely was this early morn
As clouds were drifting across the sky
Cuddling together, Mommy and I
Unaware of the befalling tragedy!
Two brawny young men
Strong like tigers and elephants
Squashed my tiny body
Flat into a cage of horror!
There was no way to escape!
O God, what purgatory was this?
I wailed in fear and terror
Mom, oh Mom, please save me!
Oh caretaker,
please come protect me quickly!
Rescue my life, I'm still at a tender age!
Mom was crying out in sorrow
Tears of desperation filling her eyes
The immense Heavens cannot contain
This horrendous emotional pain!
My caretaker turned away
Hands busy counting a stack of money
Haplessly I rolled around in the car trunk
Breaking heart more painful
than bodily misery!
The two young men bantered:
"This piglet will be so tasty!
Tomorrow we'll slaughter him
To celebrate the birth
of the wife's newborn baby!"
Oh, how ironic this life
My soul is shattered
Tears flow in my heart
Like blood running in rivulets.
I thought you loved me
Nurturing me to maturity
But all this was a sham
For you, it's just profit and gain!
Tomorrow my body will be cut to pieces
My flesh and bones
turned to sheer torture
Just so people can laugh in merriment
At their happy feast and gathering.
To your children and others' too
I wish them all long lives
So the family can stay together
Not endure the same fate as mine…
I pray the whole family lives nobly
To be human in many lifetimes
And never be reborn as pigs
Paying forever karmic debts!
Alas, good-bye life…
I ache for my gentle suffering mother
In tears I am overcome…
Oh, Mommy! Mom…Mom…
---Poetry Wrtten By Supreme Master Ching Hai
和您首次见面的那天
是我的生日
胖乎乎的我,粉红又圆润,
和妈妈一起快乐玩耍
您用关爱的眼神凝视我
还赞叹道,"圆嘟嘟,真可爱!"
每天您过来造访
带来凉水甘露和素食美味大餐
妈妈和我深深感动
您的好意贵过金子
平静惬意的日子
全凭您的关爱和荫护
每一天身体都更加敦实
吃饭,休息和玩耍……
那个美丽的清晨
彩云在天空飘逸
我和妈妈拥抱在一起
浑然未觉厄运已降临
两个结实的年轻人
如老虎和大象般的健壮
我弱小身子被抓住
塞进可怕笼子
我无法逃脱
上帝阿,这是怎样的炼狱?
惊恐中我嚎啕大哭
妈! 啊, 妈,救救我吧!
噢,监护人
您快来我吧!
请拯救我的生命,我尚在幼稚年华
痛哭的妈妈极度悲伤
绝望的泪水浸透双眼
就算无边天空也无法盛下
那是揪心刺骨的精神伤痛呀!
监护人却将脸转过去
双手在不停地数钞票
无助的我在小车后备箱中滚来滚去
心碎之痛远胜过任何身体之苦
两个年轻人还在逗乐
"小猪味道一定美极了
明日就把它宰杀
来庆祝老婆刚刚生小孩"
噢,生活太可笑
我的灵魂已被摧残了
我的心在流泪
犹如血液在溪水中流淌
我本以为您深爱着我
会抚育我长大
不过, 这一切都是伪装
对您而言, 仅关心利益!
明天,我的身躯会被劈成碎片
每一块肉体和骨头
都躲避痛苦而扭曲
而大家嬉戏寻欢
在他们快乐的宴会和聚会上
对于您和其他人的小孩
我祝福他们长寿
愿天下所有的家庭能团聚
不必经历和我同样的噩运
我祈祷, 全家都能过体面生活
生生世世做人
不要投胎当猪
因为业障缘故
啊, 再见了, 我的生活
我为痛苦的妈妈心酸
泪水中我已经超越
噢, 妈米,妈妈,妈妈!
作者:清海无上师
Labels: poem, save the earth, Supreme Master Ching Hai
Lasm's story told @1:32 AM
Today on Supreme Master Television cooking show, you can see the gourmet dish of Indonesian West Sumatra style. This dish is called Indonesian Spiced Coconut Vegan Rendang, which is a really long name.
The main ingredient of this dish is the vegan dry meat. This is how the vegan meat looks like before cooking..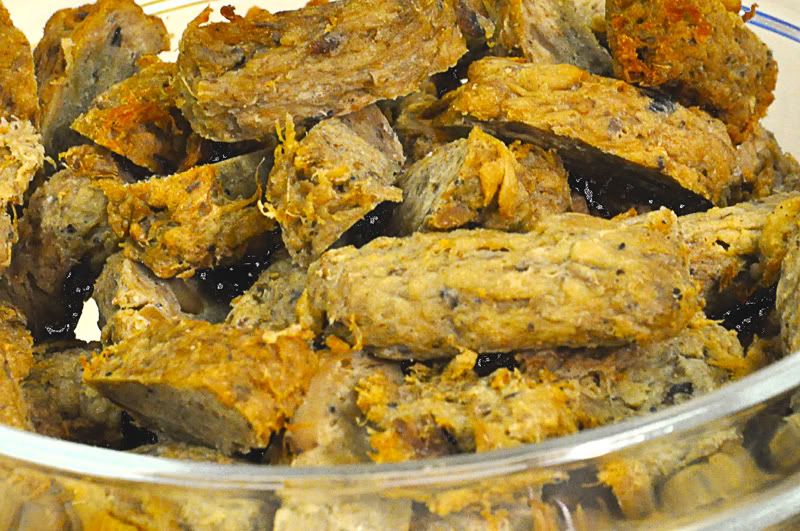 In Indonesian Malay cooking, the star of the show is actually the use of spices.
Take a look at the ingredients used for this dish:-
ginger
cooking oil
red onion
garlic
blended chillies
galangale
lemon grass
candlenut
tumeric
ground coriander
ground pepper
ground nutmeg
ground cumin
coconut milk
bay leaves
lime leaves
tumeric leaves
sea salt
sugar
roasted coconut
And for garnishing, we have sliced cucumber and lettuce.
When you add all these vegan ingredients together and start to cook them, the taste and aroma is heavenlicious..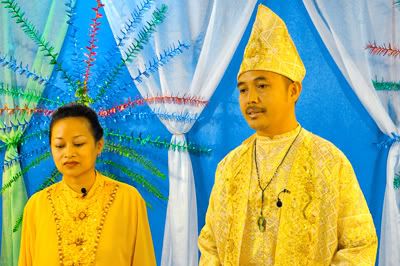 It's a meal fit for the King ! The Indonesian traditional costume is noble and regal.
Very elegant golden colors !!
For more vegan cooking shows on video, check out
Vegetarianism The Noble Way of Living
.
Labels: cooking show, vegan
Lasm's story told @12:18 AM
During a radio interview with Supreme Master Ching Hai on Ireland's popular East Coast FM Radio, co-host and newly vegetarian Ms. Louise Kings shared a discussion about the harms of meat consumption for both human and planetary health. Ms. Kings cited the United Nations 2006 report, "Livestock's Long Shadow," which revealed that transport is actually not the #1 cause of greenhouse gases; rather, the livestock industry alone is responsible for more emissions than all transportation combined.
Interview with Supreme Master Ching Hai by East Coast FM Radio, Ireland
Sunday, August 31, 2008
Louise Kings (F): Scientists have shown that: say the average car produces 3 kilograms a day of CO2 gases, while clearing rainforest to produce beef for maybe 1 hamburger produces 75 kilograms of CO2 gases. That's a huge difference of two and a half thousand percent (2500%). So for anyone wanting to reduce their carbon footprint this clearly shows that eating meat has a much bigger impact on the environment than, say, driving your car. Would you be in agreement with what the scientists are saying?
Supreme Master Ching Hai : Yes, ma'am. 18 percent pollution is just part of the estimate. Actually there are other hidden side costs of global warming, because it's not included, like people get sick and the price we have to pay for the hospital and the taking care and develop medicine and research and etc., etc., and cost of the sorrow of people who lost loved ones due to meat related illness. And all the change that we advocated up till now by society is helping but it's very little as you can calculate it yourself. Only vegetarian diet can truly help. And as every action provokes another action and like attracts like. So if we save lives, ours will be spared. Everything else is just secondary.
For more information about East Coast FM Radio and this interview, please visit www.eastcoastfm.net
VOICE: We would like to thank East Coast FM Radio and concerned co-host Ms. Louise Kings for offering listeners a clearer picture of matters that are highly relevant to themselves and those around them.
Our gratitude to Supreme Master Ching Hai whose insights are truly practical and yet have deep implications for our lives and our souls. We pray that the real facts and priorities regarding our diet will be more widely known for all to make the best choice.
Source:
Supreme Master Television
愛爾蘭最受歡迎的東岸FM電台最近訪問清海無上師,主持人之一露意絲金斯(Louise Kings)小姐,她也剛開始吃素,她說吃肉傷害人及地球的健康,金斯小姐引述聯合國零六年報告《牲畜的長期陰影》(Livestock's Long Shadow)揭露溫室氣體的元兇並非運輸而是畜牧業,畜牧產生的溫室氣體比所有運輸總排放量還要多。
露意絲金斯:「科學家指出,汽車每天平均排放3公斤二氧化碳,清砍雨林為了生產一個漢堡的牛肉,並製造75公斤的二氧化碳,是汽車排放的二十五倍,非常可觀,如果你想減少碳足跡,這個數據證明吃肉比開車對環境造成更大影響,您贊成科學家的這個論點嗎?」
清海無上師:「是的,18%的汙染只是估計的一部份而已,還有全球暖化之外的隱藏代價還沒算進去,例如人們生病付給醫院的錢、研發生產藥品的錢、研究費用等等,因吃肉相關疾病喪生,痛失親友的代價。目前為止,社會宣導的方法是有幫忙,不過很少!你自己可以計算。只有素食能真的幫忙,因為種什麼因得什麼果,同性相吸,如果我們拯救生命,我們的命也會被救,其他的方法都是次要。」
我們感謝東岸FM電台及主持人露意絲金斯小姐,讓聽眾清楚了解與自身及親友密切相關的訊息,我們感謝清海無上師精闢的見解非常實用,對生活及靈性也具有深義,祈願更多人知道肉食的真相及吃素的重要,大家能做最佳選擇。東岸FM電台將於九月七號週日,重播清海無上師的完整訪談內容,愛爾蘭時間凌晨兩點(中歐時間凌晨三點)www.eastcoastfm.net/listen.htm。請鎖定無上師電視台智慧之語節目擇日為您完整重播這場清海無上師的訪談,並附多種語言字幕。
Labels: climate change, east coast fm radio, global warming, hidden cost of meat, stop eating meat
Lasm's story told @12:05 AM
In a previous post, we blogged about the young vegetarian kid who is doing his best to save the world, adopting a vegetarian diet, and driving a zero emission vehicle.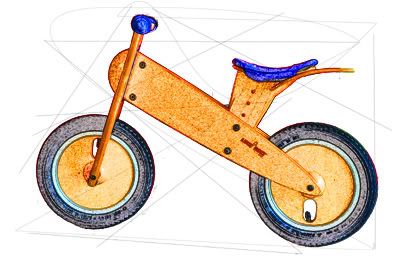 We looked at the design of his bike, and we were deeply moved that such a young vegetarian hero doing his very best to save the world. Not only is he a vegetarian, he is driving a zero emission vehicle !
We saw him park his vehicle at a vegetarian restaurant, but we didn't get to see him.
So we waited, and not so long later, our young vegetarian hero shows up...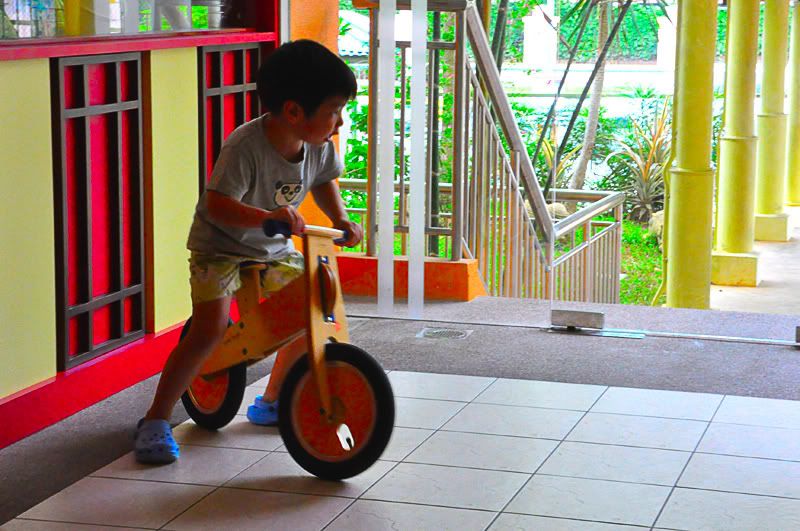 How can he leave his beloved zero emission vehicle alone ? With very daft moves, he picks it up, turn it around, and he's ready to go !!
Hang on kiddo, wait,.. our hero, wouldn't you pose for a shot ?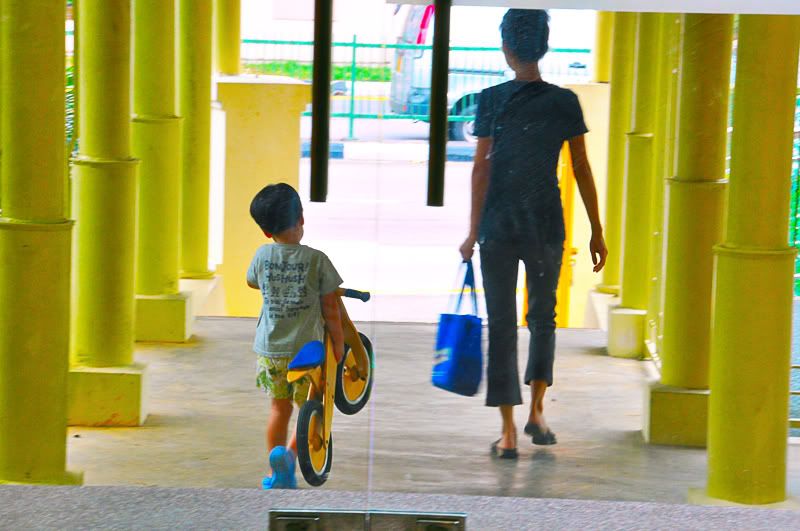 We managed to take a photo as he left the vegetarian restaurant, and carried his beloved green bike down the stairs.
We love you kid !!
Children of the world who wants to save the Earth.. Please follow this kid's example, eat vegetarian meals.. that is how you can be a hero and save our world !
Labels: good karma, kids, save the earth
Lasm's story told @4:54 AM
While at the Happy Arts Deli 悦艺苑 Vegetarian restaurant, a young customer came in and park his vehicle right in front of our table. We were very amused and happy to see his zero emission vehicle.
So much love in this organic, beautiful work of art. The love of the designer and builder of this bike for the kids is obvious. The love of the parents who bought this zero emission vehicle is evident.
You must have heard of it by now.. That a vegetarian driving a gas guzzler Hummer SUV is more green, have less carbon footprint than a carnivore meat eater riding a bicycle..
Well, this young customer is a vegetarian, eats out at a vegetarian restaurant, and drives a zero emission vehicle.. He is such a sweet angel !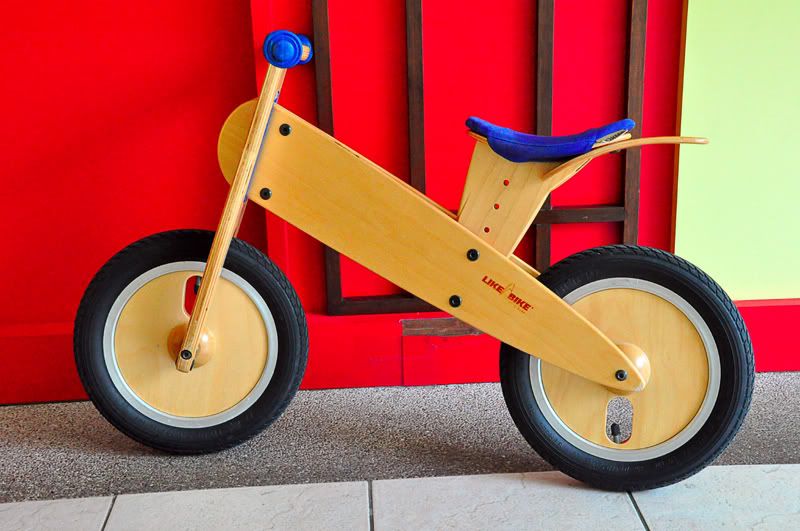 We can't help but take a closer look at his vehicle, admiring its form and beauty and simplicity.
We pray that all the kids around the world who are so concerned about saving the state of our planet Earth right now will wake up and join this kid, to become a noble vegetarian, and by sparing the animal's lives, help us all to save the world.
Be a hero, kids !! Save our world. Set an example for the adults to follow.. I want to eat vegetarian and harm no animals... because I want to save the world..
Labels: kids, save the earth
Lasm's story told @12:29 AM