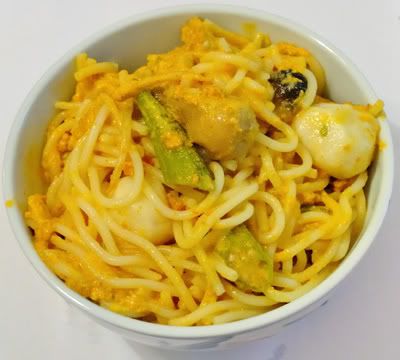 Today we had laksa to-go from Xing Hua Vegetarian Restaurant.
This branch is at Tampinese Street 21, Block 201D. They have branches at Middle Road and Bencoolen opposite Sim Lim Square.
Laksa is a rich and spicy food, with thick curry gravy rich in spices and coarse noodle, the vegan version is in every way just as delicious. Here you can see some ladies finger and faux fish ball in the bowl of laksa.
Labels: vegetarian
Lasm's story told @7:42 PM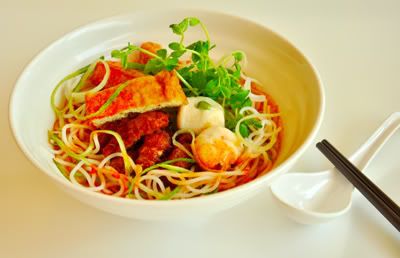 When switching to a digital camera with RAW file output capabilities, many people are faced with the problem of deciding which workflow processing to adopt. Should it be simple and straight forward JPEG processing or is RAW the better way to go ?
There are various pros and cons of each approach to be discussed here.
Firt off, RAW format is the camera manufacturer's closet attempt at producing a digital negative. As such it is big in size and frequently requires proprietary software to derive the utmost benefit. Each manufacturer has it's own way of encoding the RAW format, which eventually will be converted to JPEG for practical use. So why the additional step of producing and processing a RAW file when the JPEG output file is the most useful format ?
Well, it turns out that there are several advantages to processing a RAW file.
Generally it gives 1 to 2 stops more lattitude when you want to enhance the photo. This means a lot of precious photo details are captured in the RAW format compared to JPEG format.
So if you find yourself processing your photos or enhancing them most of the time, then it makes sense to shoot in RAW and produce a RAW file. You will have more room to make the corrections you need.
In addition to more data available, if you shoot in RAW you have the ability to change certain camera settings after the event. Such settings incluse, exposure control, white balance settings and picture style.
So if you want to free yourself from worrying about wrong White Balance selection, or incorrect picture style used at the point of shooting and instead devote attention to other aspects such as aperture, lighting and focus, then it is another good reason to shoot in RAW.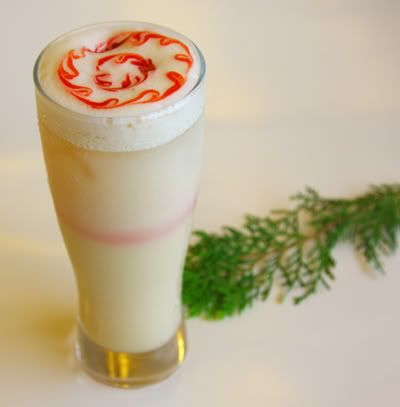 Labels: photography
Lasm's story told @9:53 PM
What's cooking today ?
Vegan sweet and sour faux fish !! Easy to cook, simple and delicious. Every children will like this dish. All you need is to shop for some seaweed wrapped vegetarian fish slices and saute these in tomato sauce. You can add cucumber, pineapple, yellow and green bell peppers for garnishing and a beautiful life saving vegan dish for the entire family is created !!
Try this dish today !! You can make it as the ingredients should be easy enough to obtain and the cooking is simple, everyday home cooking..
Labels: home cooking
Lasm's story told @4:18 PM
Today we introduce the traditional Malay vegan dish, called Lontong.
It has several unique features. Rice cubes cut into perfect squares, looks nice and tasty. And the vegetable curry sauce, with cabbages and long beans cooked ripe and soft after stewing in curry for a long time. It is sweet and spicy due to coconut milk being added, which gives it a very distinctive South-East Asian flavour.
This vegan dish which can be ordered from Loving Hut Singapore as a buffet item, adds some garnishings such as carrots and brinjal, with a touch of hot sambal chilli.
Labels: loving hut, vegan
Lasm's story told @1:57 PM
Today, we continue to explore the wonders of Hsihu Center in Formosa.
When you enter Hsihu, you are greeted by tracks... long winding country road with bushes and trees growing at both sides, a picturesque setting so charming and romantic. The trees, the bushes, the flowers of Hsihu welcomes you with gentle sways and offer you shade and cooling breeze.. It is so full of nature, it is so alive with beauty..
In summer, you can hear the birds chirping happily in the trees and small insects climbing up the branches. Occassionally some butterflies will flap its colorful wings as it parades above your head.. walking along the tracks of the quiet way, you feel the sense of peace, of home coming..
Are you going to the international retreat ? Well, the tentage area is straight ahead, just walk down these paths, it's a long way up and down the hills, but you will see beautiful vistas when you arrive..
今年是西湖开创二十周年纪念,为了纪念这个意义重大的日子,西湖中心出版了一本新书-【天艺】。书中内容包罗万象,收集了许多清海无上师的艺术创作和珍贵的照片。
我们在这里预祝【天艺】出版成功,愿更多的艺术爱好者能够接触到这本书,享受灵性开悟大师所带来的灵感和加持。
我们将在这一系列的贴子为您介绍西湖美丽的景观,大家一齐分享吧!
Labels: hsihu, photography
Lasm's story told @11:11 AM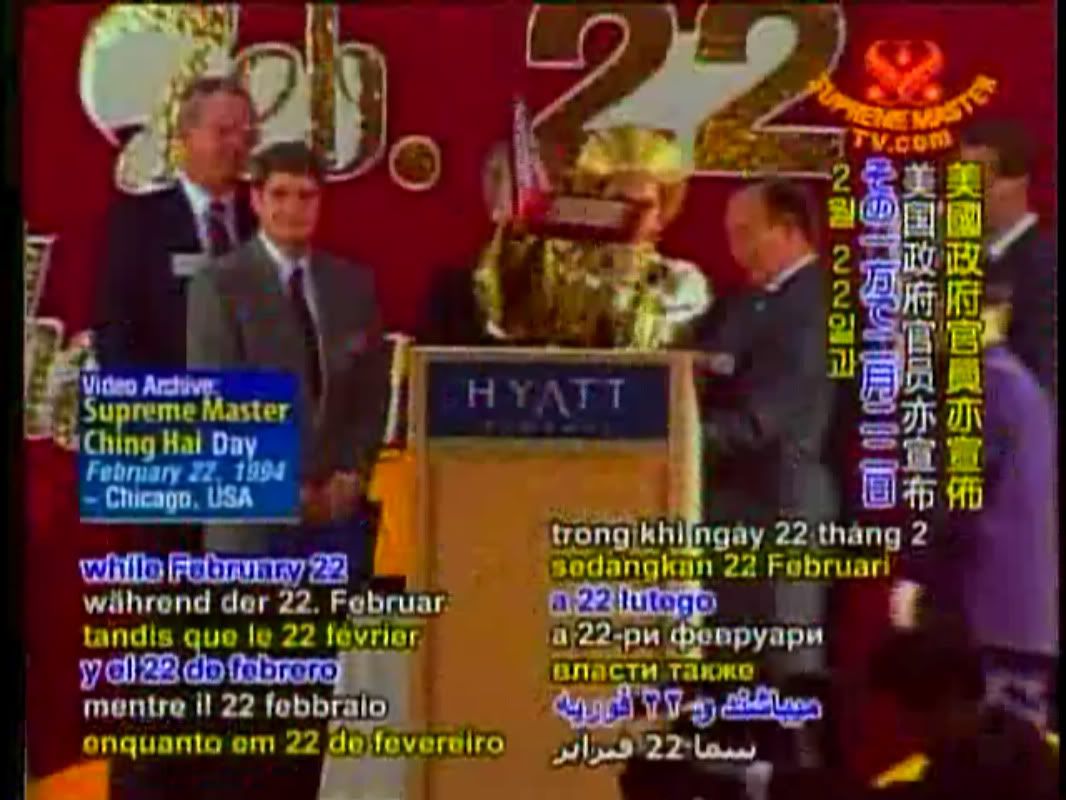 Over the years, Supreme Master Ching Hai's philanthropic and humanitarian relief work for disaster victims all over the world have not gone unnoticed. She has been awarded various honours from government and non-governmental bodies throughout the world.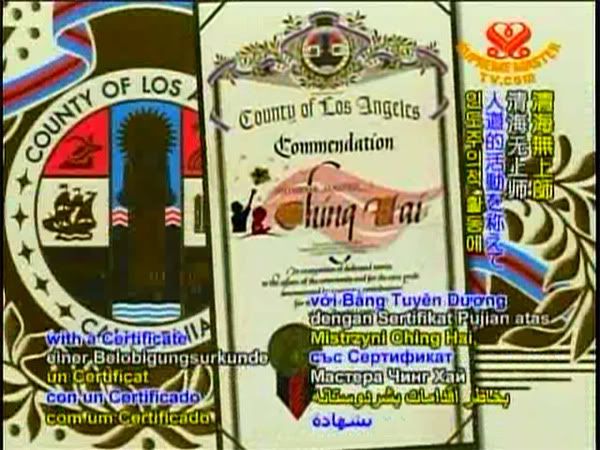 Recently, the latest honour came from the county of Los Angeles, which presented Supreme Master Ching Hai with the Los Angeles County Certificate of Commendation.
The award was give by Mr. Michael D Antonovich, Supervisor of the 5th District, Los Angeles County, USA.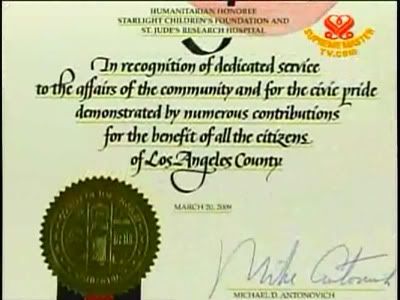 It reads in part "In recognition of dedicated service to the affairs of the community and for the civic pride demonstrated by numerous contributions for the benefit of all the citizens of Los Angeles County."
Lasm's story told @10:33 AM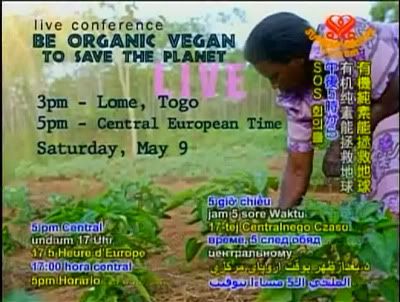 Exciting news for a live conference to be held in Lome, Togo, the first African video conference wth Supreme Master Ching Hai on Saturday May 9 at 3 pm.
Paris, Central Europe time is 5 p.m.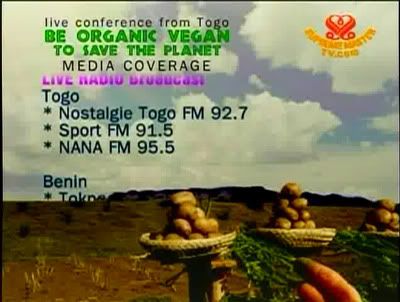 This live event will be broadcast via
Supreme Master Television
and will be made available for free public download later.
It is also broadcst by several African radio stations in Togo and Benin.
Labels: news
Lasm's story told @5:26 PM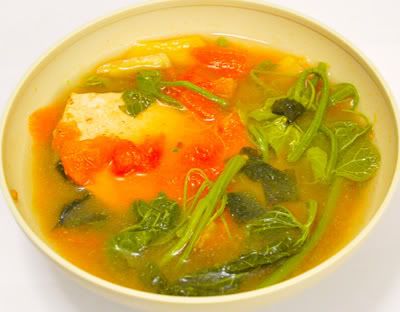 Here we do a home cooking with Vegan Asam Fish and Chayote.
Chayote, also known as sayote or the "dragon whiskers" vegetables is a common vegetable in this part of the world, easy to cultivate and well known for its medicinal properties. It is said to possess diuretic, cardiovascular and anti-inflamatory properties.
The essential ingredient is the vegetarian fish together with asam seasoning, tomatoes, ginger and a pinch of salt. This version does not have the traditional spicy chilli so it is easy for young children's palette who may not be comfortable with hot chilli.
It has a mild sour taste perfect for a faux fish dish which otherwise you may have to spend a small fortune in order to taste it in an expensive restaurant.
Get creative. You don't have to die to save the world. Just be vegan.
Labels: home cooking
Lasm's story told @8:10 PM
The emergence of the new malicious triple hybrid bird-swine-human flu virus has caused the first infected country, Mexico, to enact a new intiative to shut down the government in the country. Is this supposed to ward off the bird-swine-human flu ??
Or will this be like the ostrich burrowing his head on the sand while a storm is brewing, hoping that the storm will pass by safely ??
Governments of the world, we do not need you to shut down... We need you to shut down the pig farms !!! Please deal with the problem at the source !! Do not waste resoucres in preparing your health care ministry for war nor waste money to develop the medicine to fight human swine flu !
Simply shut down the pig farms.. and encourage all your citizens to turn vegetarian/vegan..
Ban all meat !! Ban meat-based products just like you have done to ban smoking !!
We need an intelligent, straight thinking government in this urgent crisis that is affecting the entire world..
Please use your wisdom. Meat is the cause of the world problem. Stop eating meat !!
Labels: news, stop eating meat
Lasm's story told @12:10 PM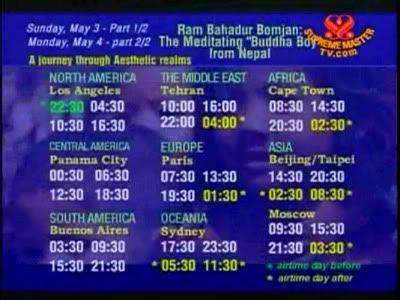 Coming this Sunday on Supreme Master Television, the story of Buddha Boy Ram Bahadur Bom Jan of Nepal.
You have probably heard of the Buddha boy who spent long hours meditating in the forest, and occassionally appearing in the public to bless the people.
Listen to the messages he brings to us ...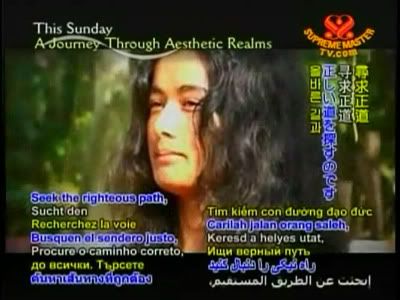 Sunday, May 3 - Part 1
Monday, May 4 - Part 2

Show Times:

North America        The Middle East       Africa
Los Angeles          Teheran               Cape Town
22:30 (-)  04:30     10:00     16:00       08:30     14:30
10:30      16:30     22:00     04:00 (+)   20:30     02:30 (+)

Central America      Europe                Asia
Panama City          Paris                 Beijing/Taipei
00:30      06:30     07:30     13:30       14:30     20:30
12:30      18:30     19:30     01:30 (+)   02:30 (+) 08:30 (+)

South America        Oceania               Moscow
Buenos Aires         Sydney
03:30      09:30     17:30      23:30      09:30     15:30
15:30      21:30     05:30 (+)  11:30 (+)  21:30     03:30 (+)

(+) airtime day after
(-) airtime day before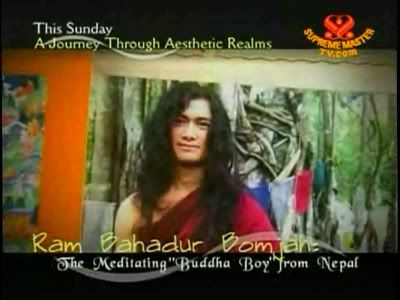 If you miss the scheduled broadcast you can download the video a few days later from
Supreme Master Television - Journey through Aesthetic Realm
Labels: news
Lasm's story told @12:14 PM