One of our all-time vegan favourites, must-try dish.. The fried oyster mushroom.. Already blogged about the Simei Metta School sweet-and-sour variety, this Loving Hut preparation is different; it is spice filled and full of crunchy, healthy goodness.
Since vegan foods are cholestrol free, we can afford to eat fried food without guilt !! It is tasty and yummy.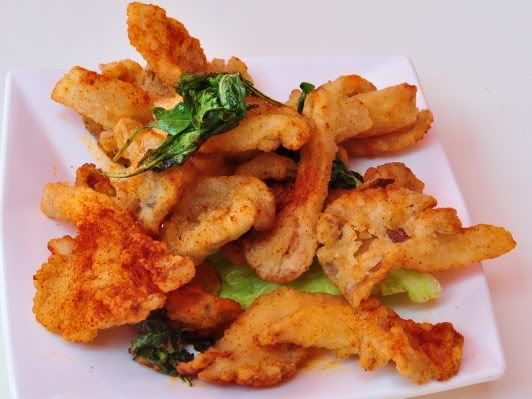 At Loving Hut BMC, you can order this as a side dish, or together with a brown rice set. Food made with love, and respect for the animals !! For your own health, the future of our planet, and to live a disease-free and disaster-free life, you owe it to our next generation... Be Veg !! Join us to save the planet.
Yummy Loving Hut brown rice with vegetable and soup of the day. Delicious. Every meal you order is an endorsement for health, an endorsement for nobility, an endorsement for vitality.
Please save our environment by choosing a vegan meal always !!
And yes, the bus ad is still running, so yes, you still can catch the SOS bus no. 131 from Kim Keat, Balestier Road, Thomson, Bukit Timah, all the way to Loving Hut waiting for you just a stone's throw from the Bukit Merah Bus interchange
Labels: bukit merah central, loving hut
Lasm's story told @12:56 PM