Heed the cries of this child..
Be a vegetarian ! Go Green... Save the Earth !
Will you be the hero to save her ??
Will you go the extra mile for her ?
Be a vegetarian today !
Labels: kids, save the earth
Lasm's story told @2:59 AM
Due to overwhelming requests from radio listeners, East Coast FM Radio 96.2 FM is conducting a second live interview with Supreme Master Ching Hai, on Sunday 30 November 2008.
Ireland, UK and internet audience can catch it live on
http://www.eastcoastfm.com/listen.htm
10:10 pm Ireland local time, 11:00 p.m. Central European time,
18:10 Buenos Aires, 23:10 Cape Town,
22:10 London, 14:10 Los Angeles,
23:10 Paris, 16:10 Mexico City
The cities below air on the following day ( 1 December 08)
1:10 Moscow, 5:10 a.m. Tapei,
02:40 New Delhi, 07:10 Sydney,
01:40 Teheran, 02:00 Tokyo
Labels: east coast fm radio, news
Lasm's story told @12:10 AM
The film Gandhi (1982) depicts the story of one of the greatest statesman and vegetarian, Mahatma Gandhi. I remember watching the film very attentively as I was interested to know the life that he lived and what he had done for India.
I have known that he was a humble lawyer by training, and his love for his country motivated him to bring unity amongst the different races in India. This motivation was similar to what had happened to another great statesman of China, Dr. Sun Yat Sen who loved his country deeply.
One particular scene was very graphic. Gandhi was the leader of a whole group of followers who were fighting for their rights in a public display of civic disobedience of a non-violent nature. On the other side rows of policemen armed with batons ready to put them down. One by one, Gandhi and his followers came forward, unarmed and defenseless, and were clobbered down mercilessly by the policeman. In the end, Gandhi won the cause, at the cost of a lot of blood and pain. Non-violence triumphed over violence.
It was a very disturbing scene. I didn't know what to make of it. But that film did teach me at least two words. That Mahatma means a great soul, and Gandhi earned it by his devotion and unconditional labour of love. The other word which I learned was Ahimsa, a state of non-violence.
Now it is Thanksgiving season again in America. If you are still living in the tit-for-tat world, if you are still eating meat, and if you still believe that your life must be sustained at the cost of another turkey's life, then this thanksgiving you could be using violence against a living turkey. You killed the turkey, or caused the turkey to be killed at the hands of others in order that its flesh can be roasted and brought to the dinner table for your "consumption".
If you are still killing a live turkey, I hope you remember the Gandhi movie. The turkey represents the spirit of Gandhi. He wants to fight for his own right to live. He is completely harmless and unarmed. He is defenceless yet defiant as the butcher's knife is brought down against his throat.
If you eat the turkey, you are the policeman in the Gandhi film. You are the perpetrator of violence. You believe in the negative powers. You believe that might is right. You live in self-justified brutality, not caring whether it is at the expense of another living being. As you use your fork to dig into the turkey meat, every single strike is the same strike that the policeman used to clobber Gandhi.
You should know that in the end Gandhi triumphed. So will the turkey. Stop the senseless violence now! Let it never happen again in your life. There are so many alternatives available toay. You can search for veggie turkey recipes in the internet. You can buy
tofurky products
. You can even order from restaurants like
One World
. There is no excuse.
Make every day a cold-turkey day for you. Gandhi went cold turkey. So should you !
May your life be blessed by your mercy. Heaven will smile on you, and the turkeys will thank you for their life.
Labels: animal cruelty, bad karma, good karma, save the earth, stop eating meat, turkey
Lasm's story told @12:00 AM
We continue with Happy Arts Deli, introducing the third common vegetarian dish.
If you like cooking or can already cook, give it a try !
This dish is called the deep fried oyster mushroom.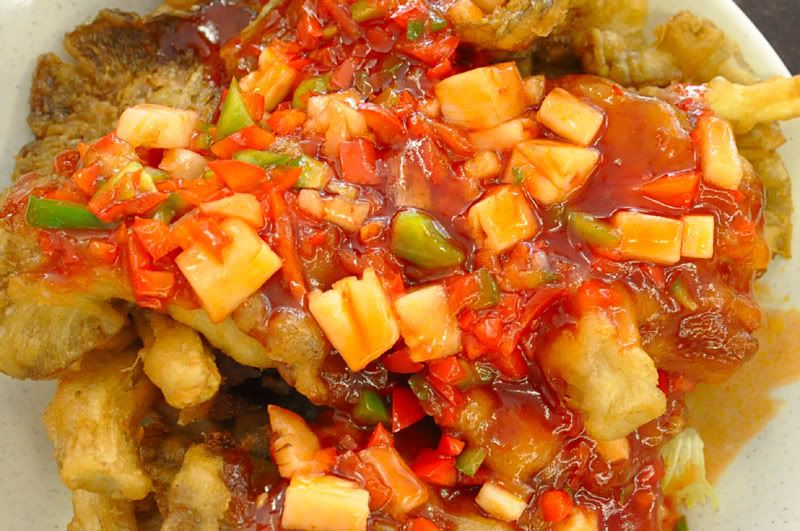 The main ingredient is the oyster mushroom, so called because of its fan shaped structure...
A simple way to prepare it is to buy a vegan tempura powder, or flour and add spices to taste. Pour some water into a small bowl of tempura powder and stir the mixture until it becomes gluey.. Continue to add more powder, and do not put too much water initially.. You will want your tempura mixture thick and sticky ! Once you have done that put the oyster mushroom into the batter and coat it thoroughly.
Put some oil in a frying pan or Chinese cooking wok, there should be enough oil for you to soak at least two or three oyster mushrooms. The oil can be reused for cooking another day, so don't worry if you pour too much oil into the pan.
Get the oil to the right boiling temperature. The way Chinese cook test it is to use a pair of wooden chopsticks and put it into the oil. If you see bubbles at the bottom of the chopstick then the temperature is just right. When the oil is ready, put in the tempura batter-coated oyster mushroom one at a time, not too many and wait for it to deep fry to a golden yellow color.
Take out the golden deep fried mushroom with a sieve and let it stand on a bowl so the excess oil can drain off. That is all there is to it !!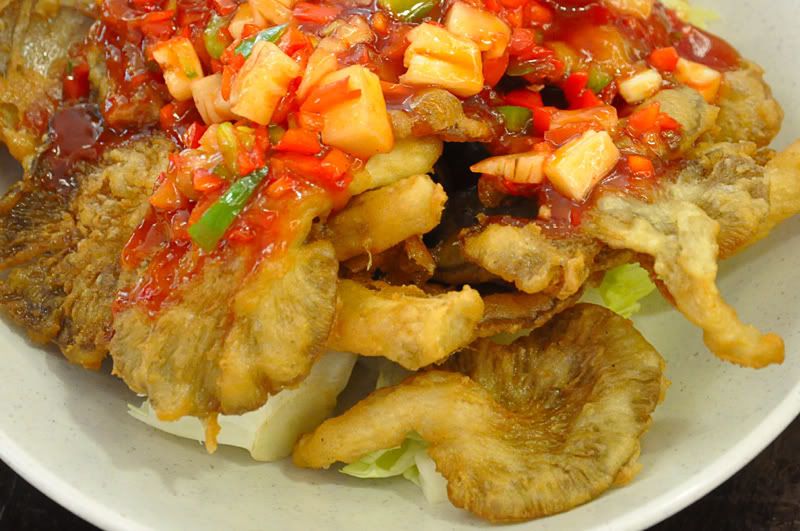 Here's another look at a simple deep fried mushroom meal that is completely vegan !
Notice you can pour some tomato ketchup sauce with some left-over pineapple, bits and pieces of green and red bell pepper for garnishing.
BTW, like
Loving Hut
, this place takes cash only. No NETS or credit cards.
Labels: vegetarian
Lasm's story told @1:21 AM
Labels: widget
Lasm's story told @1:59 PM
We are back with our food feature, taking a short break from
Loving Hut
, and now looking at a vegetarian restaurant in Simei.
We have a choice of pre-cooked dishes with rice which is cheaper, but on this occassion, we decided to try the stir fry skills of the Deli Arts kitchen, and so we ordered three slightly more expensive common vegetarian dishes.
If you are vegan, just to remind you when browsing the bakery section, some of the cakes have eggs in them, so just ask before you buy to be sure... You certainly don't want to stain your golden aura with egg yolks, do you ?
The first household dish, which is common home cooking for vegetarians in this part of the world, is the sweet and sour faux fish with cucumber dish. The ingredients include red and green bell peppers and a generous serving of tomato sauce.
The fish is soy protein wrapped around a seaweed skin. You can buy this at the supermarket frozen food section, and do a simple stir fry at home.. The best thing is of course, not just the nice taste but it doesn't have the stinking smell of real seafood or fish. It smells clean and pure !!
The second dish is the vegetarian abalone with spinach in rich vegetarian oyster sauce.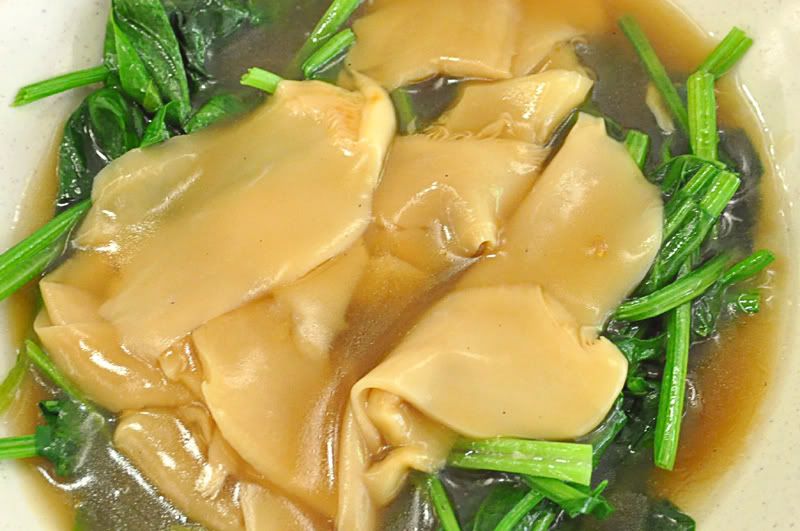 This is another easy stir fry dish, and the faux abalone is easily available from the supermarket or any vegetarian supply store. The spinach can also be replaced with brocolli which young children will like, and sometimes this dish also comes with shitake mushroom which makes it more flavourful.
Labels: vegetarian
Lasm's story told @1:51 AM
A very very touching song you can hear when you visit
Kids for Saving The Earth
a song sung by kids who are very concerned about saving the Earth.
Supreme Master Ching Hai
has unambiguously charted the way forward for all the people and kids in the world to save the Earth.
Go Vegetarian ! Go Vegan ! That is the best way to save our precious Earth.
Meat eating is polluting our environment and it is the number One contributor to green house warming gas according to United Nations Report in 2006 entitled "Livestock's Long Shadow". See Dr. Pachauri 's blog
Lifestyle Changes for a Healthy Planet
Dr. Pachauri heads over a thousand scientists engaged in studying global warming at the UN Inter Governmental Panel on Climate Change.
Start with eating less meat now ! Choose Vegetarian or Vegan meals !
Intelligent kids, tell your parents you want to go vegetarian to save the Earth..
If there is no vegetarian meal in your school, talk to your teacher about it. Talk to your parents, ask them ! Schools should provide vegetarian sandwiches !!
Labels: good karma, kids, save the earth, school
Lasm's story told @12:04 AM
We take a little break from our regular feature of
Loving Hut
Restaurant to take a look at one of the many vegetarian restaurants in Singapore.
Today we bring you to Simei Road, opposite Melville Park near the entrance to the PIE, here you find the Metta School, and the restaurant inside the school is actually a vegetarian restaurant, some of the cakes in their bakery section have eggs in them, but other wise all their meals are vegetarian and eggless.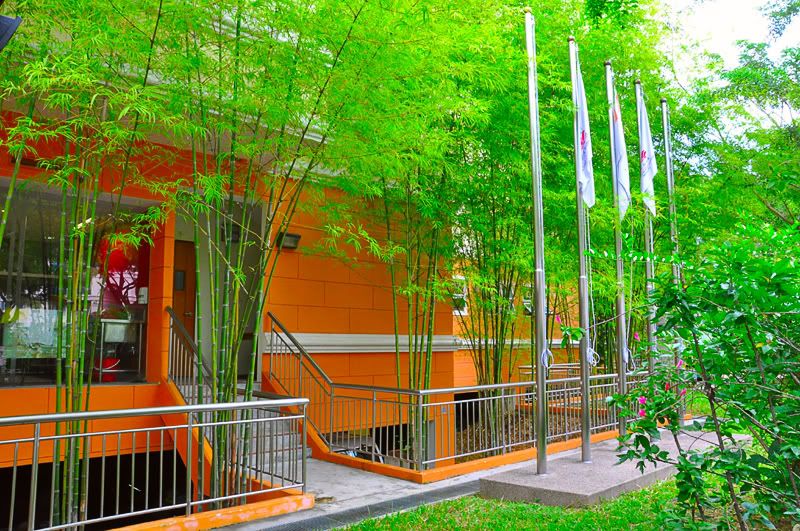 The entrance to this restaurant is lined with beautiful bamboo trees. The
Metta School
admits children with mild intellectual disability and the restaurant serve as a canteen for the students, offering them cheap vegetarian food every day at discounted prices.
The restaurant is of course open to the public every day and is conveniently located at the bus stop. If you are coming from Simei MRT, bus 9 will bring you right to the door step after about 3 or 4 bus stops.
When you step inside, the place is clean and brightly lit with air conditioning.
If you are thinking of a venue for a vegetarian or vegan wedding, this could be an ideal place.
That reminds me about my Buddhist vegetarian friend's wedding many years ago, which was held at the Kingsland Vegetarian Restaurant at Toa Payoh. Unfortunately Kingsland closed that outlet and the latest one is now located at a coffee shop, at the junction of Telok Ayer Street and Boon Tat Street, next door to the Hokkien Huey Kwan. If you are at the coffee shop, notice that the stall selling the peanut pancake is vegan !!
There's a small buddhist temple in the same compound so it is not unusual to see monks patronising this restaurants and in fact some of the cooks or helpers are renunciates in the Buddhist tradition.
The area to the left have bigger tables so it caters for 10 or more people on the same round table. A little privacy is afforded by some appropriately placed bamboo partitions.
A unique feature of this place that deserves mention is that it supports the arts and they do feature art painting exhibition by local artists from time to time. You can eat or dine right below any of the paintings in style !
In the next part, we shall take a look at the food being offered here.
Labels: school, vegetarian
Lasm's story told @1:50 AM
News flash from Supreme Master Television:
Irish Independent to publish interview with Supreme Master Ching Hai on Wednesday, December 10, 2008. The paper can be bought at all newsstands and airports in Ireland and UK.
Check their website for more details...
www.independent.ie
This interview is held in conjunction with Earth magazine.
A broadcast on
www.suprememastertv.com
will follow shortly.
Labels: news
Lasm's story told @1:00 AM
Today's Painting of the day, we will look at an enchanting oil painting by Supreme Master Ching Hai entitled "Mangosteen" 山竹果
Mangosteen is often called the "Queen of Fruits". It has a soft, juiyc flesh within a hard fibre shell which is easy to break. If you get the juice stain on your clothes, it can be hard to wash off. It is said to counter the "heatiness" you get from eating too much durian, the "King of Fruits".
At Loving Hut, Suntec Singapore, the recommended dish of the day is the jolly Jolly Rice.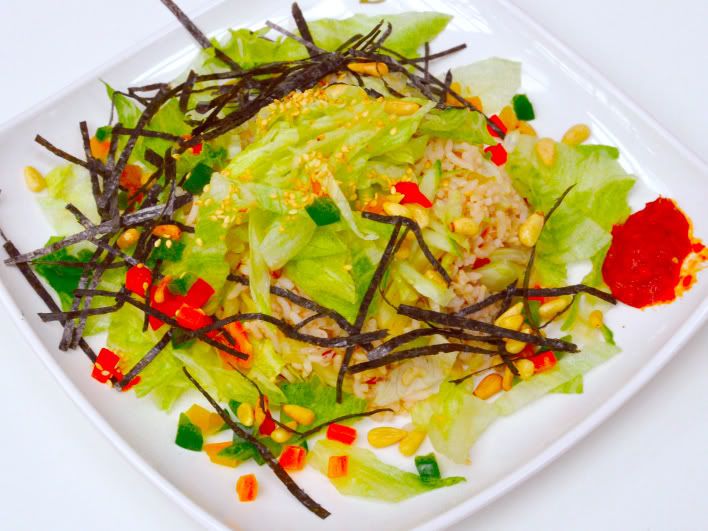 Beautiful to look at and delicious to taste, this is heavenly food ! Yummy !! Lots of vegetable goodness for your body and soul.
From Bible, King James Version, Isaiah 1:11-16
11
To what purpose is the multitude of your sacrifices unto me? saith the LORD: I am full of the burnt offerings of rams, and the fat of fed beasts; and I delight not in the blood of bullocks, or of lambs, or of he goats.
12
When ye come to appear before me, who hath required this at your hand, to tread my courts?
13
Bring no more vain oblations; incense is an abomination unto me; the new moons and sabbaths, the calling of assemblies, I cannot away with; it is iniquity, even the solemn meeting.
14
Your new moons and your appointed feasts my soul hateth: they are a trouble unto me; I am weary to bear them.
15
And when ye spread forth your hands, I will hide mine eyes from you: yea, when ye make many prayers, I will not hear: your hands are full of blood.
16
Wash you, make you clean; put away the evil of your doings from before mine eyes; cease to do evil;
以 賽 亞 書 1:11-16 (Chinese Union Version (Traditional))
Chinese Union Version (Traditional) (CUV)
11 耶 和 華 說 : 你 們 所 獻 的 許 多 祭 物 與 我 何 益 呢 ? 公 綿 羊 的 燔 祭 和 肥 畜 的 脂 油 , 我 已 經 夠 了 ; 公 牛 的 血 , 羊 羔 的 血 , 公 山 羊 的 血 , 我 都 不 喜 悅 。
12 你 們 來 朝 見 我 , 誰 向 你 們 討 這 些 , 使 你 們 踐 踏 我 的 院 宇 呢 ?
13 你 們 不 要 再 獻 虛 浮 的 供 物 。 香 品 是 我 所 憎 惡 的 ; 月 朔 和 安 息 日 , 並 宣 召 的 大 會 , 也 是 我 所 憎 惡 的 ; 作 罪 孽 , 又 守 嚴 肅 會 , 我 也 不 能 容 忍 。
14 你 們 的 月 朔 和 節 期 , 我 心 裡 恨 惡 , 我 都 以 為 麻 煩 ; 我 擔 當 , 便 不 耐 煩 。
15 你 們 舉 手 禱 告 , 我 必 遮 眼 不 看 ; 就 是 你 們 多 多 地 祈 禱 , 我 也 不 聽 。 你 們 的 手 都 滿 了 殺 人 的 血 。
16 你 們 要 洗 濯 、 自 潔 , 從 我 眼 前 除 掉 你 們 的 惡 行 , 要 止 住 作 惡 ,
Labels: loving hut, painting, singapore, suntec, Supreme Master Ching Hai, vegan
Lasm's story told @12:01 AM
Presenting one of the latest paintings from the prolific hands of Supreme Master Ching Hai entitled "The Cycle" 循環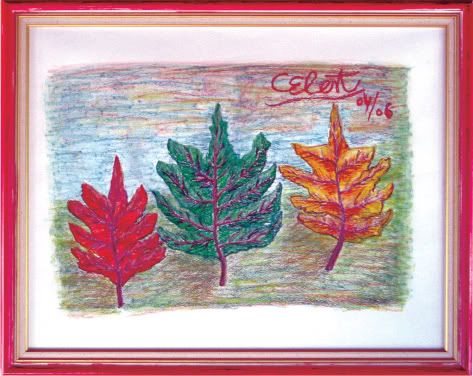 The three leaves show the changes through the seasons. Life is like that. Nature is like that. There is a time to change and a time to rest.
For those of you still eating meat, be like the leaves in this painting, now is the time to change, now is the time to get rid of the bad habbit of killing for every meal, now is the time to save the planet Earth and turn into a vegetarian or vegan lifestyle.
This beautiful painting you can admire while at the same time sipping on the Loving Hut Rose Lemon Juice.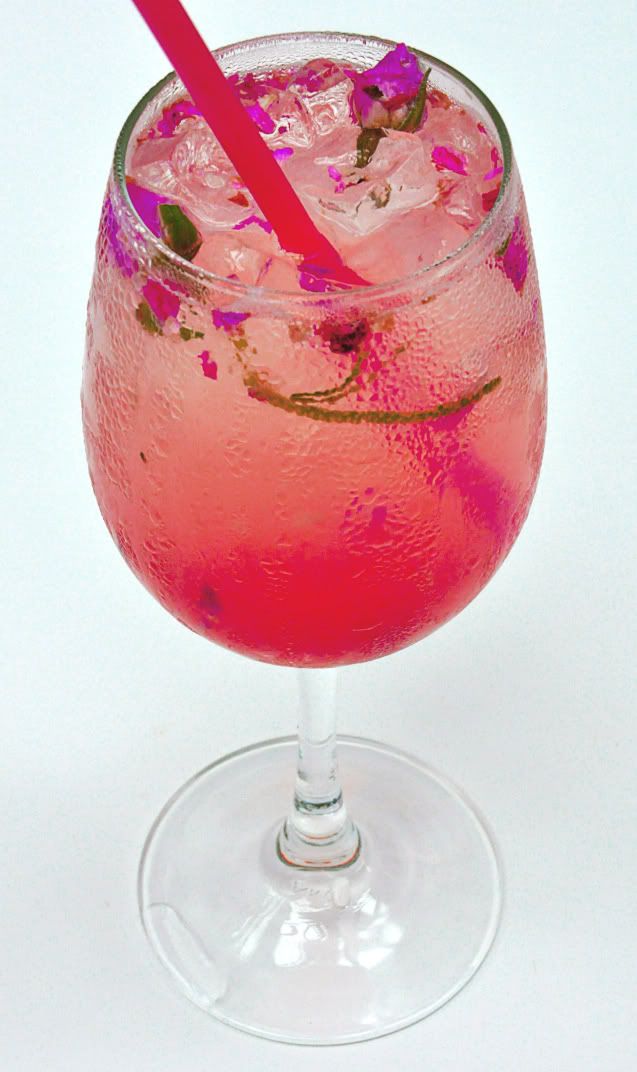 All the drinks at Loving Hut Singapore are alcohol free, so you can safely order these drinks for your children.
Labels: drink, loving hut, non-alcoholic, painting, singapore, suntec, Supreme Master Ching Hai, vegan
Lasm's story told @7:33 PM
Today we will have the opportunity to admire one of Supreme Master Ching Hai's artistic oil paintings entitled Hsihu Sunset 西湖夕照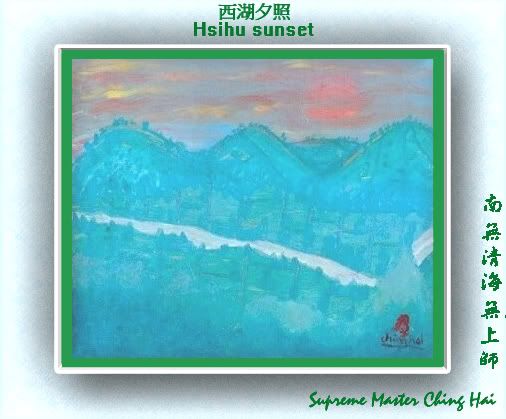 This painting of the three hills at Hsihu ashram is beautiful. It is very peaceful and serene to see this painting in cool coral blue colors..
At Loving Hut, you can order the smiling dumplings.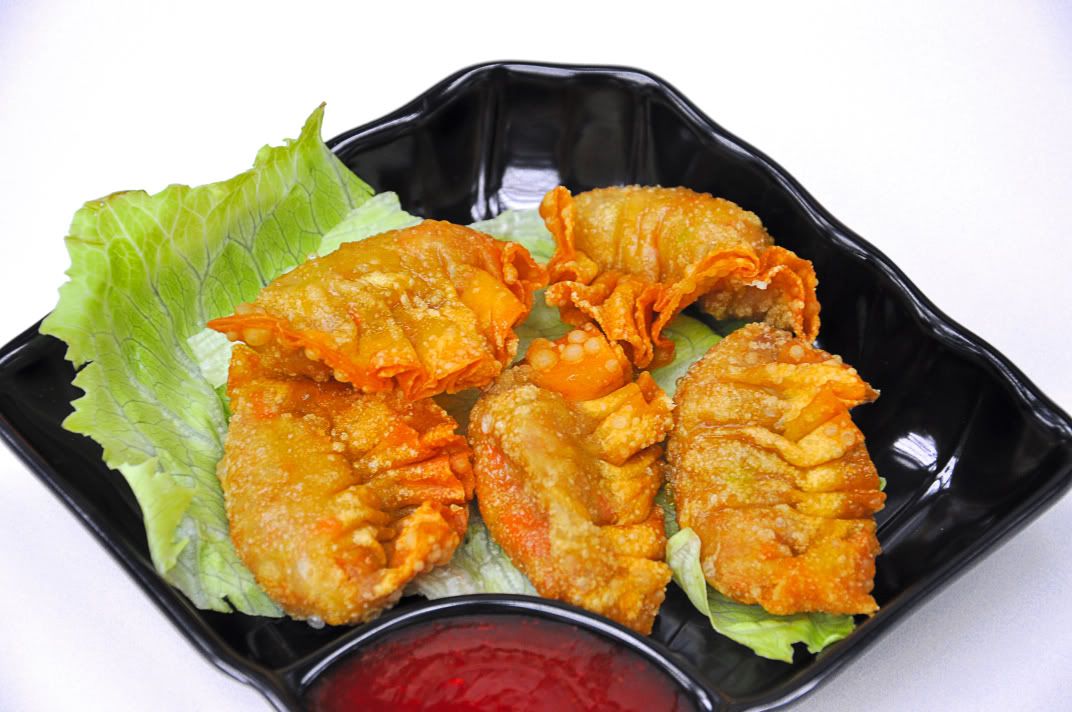 May the Smiling Buddha smile upon you as you eat the vegan smiling dumpling. It is a very delicious deep-fried dumpling which you eat safely because it is not killing any animals nor hurting the environment.
It was quickly gobbled up within minutes of serving at our table.
Labels: loving hut, painting, singapore, suntec, Supreme Master Ching Hai, vegan
Lasm's story told @10:42 PM
First, let us admire the latest paintings from Supreme Master Ching Hai entitled Igniting 點燈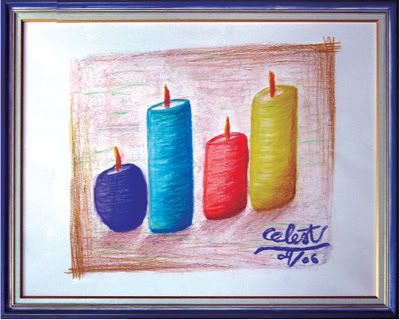 This painting of unlighted candle is meaningful to spiritual seekers.
Would you rather be the unlighted candle or the one that is lighted up by the Great Living Master of our times ?
Choose enlightenment. Choose the noble path.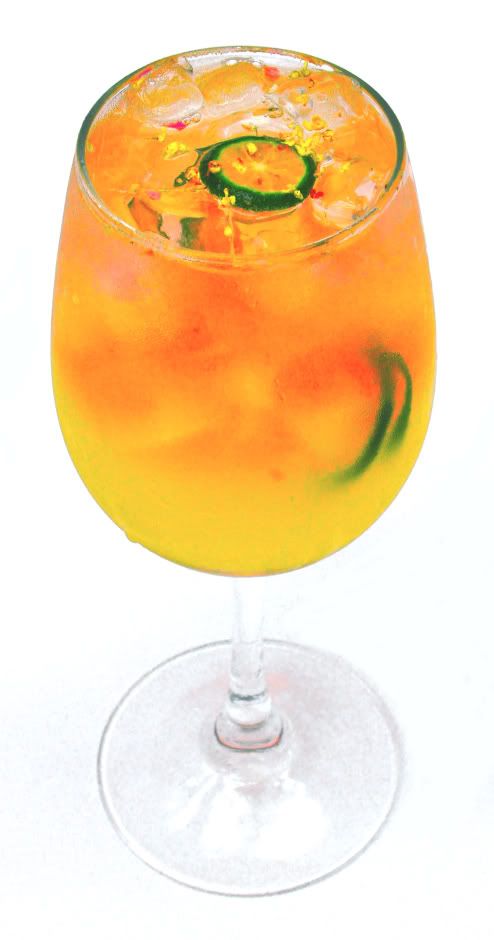 Here's a drink available at Singapore Loving Hut. It's called "Sweet Osmanthus Kumquat Juice".
Labels: drink, loving hut, non-alcoholic, painting, singapore, suntec, Supreme Master Ching Hai
Lasm's story told @7:50 PM
Before we present today's dish at Loving Hut Singapore, we shall present Supreme Master Ching Hai's painting called Nostalgia 乡愁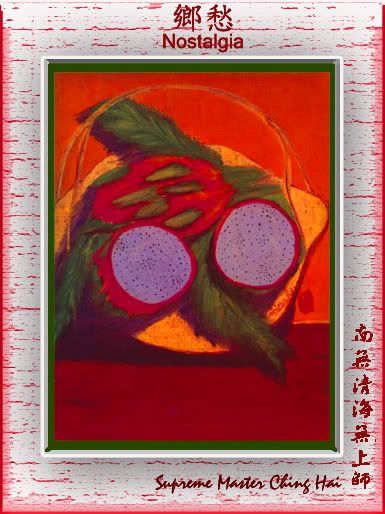 This is a painting showing a Golden Dragon Fruit cut in half and exposing many seeds.
The Dragon Fruit is indigenous to Au Lac ( Vietnam ) and is popular in Singapore as well. It is sweet, succulent and delicious. The seeds are very small and soft and fun to chew on.
While pondering this beautiful painting, we introduce the next Au Lac snack found at Loving Hut Singapore...
This is a delicious salad wrapped in translucent rice paper. Do you want to guess what are the ingredients inside ?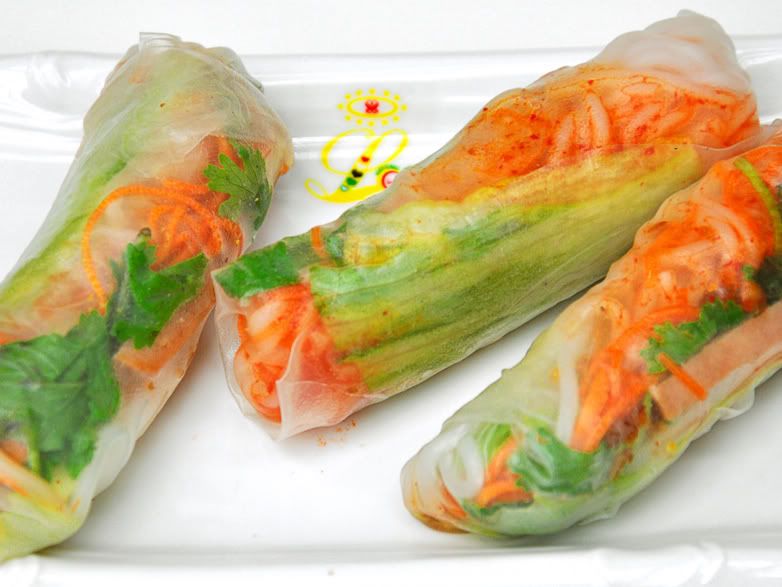 The ingredients are veggies, carrots, Au Lac noodle, vegetarian ham and some chillies.
Be sure to ask for no chilly if your kids don't take them.
Little rabbit took a bite and her face light up and she keep saying " Very nice.. Very nice.."
Labels: loving hut, painting, singapore, suntec, Supreme Master Ching Hai, vegan
Lasm's story told @11:34 PM
At Loving Hut, this drink come with its own decoration !
If you prefer strong Cocoa, remember to ask for it.
Reminds one of a spider web, like the one spun around a cave to protect Prophet Mohammed hiding inside it..
Also reminds one of the "Stone Cave" painting by the Supreme Master Ching Hai.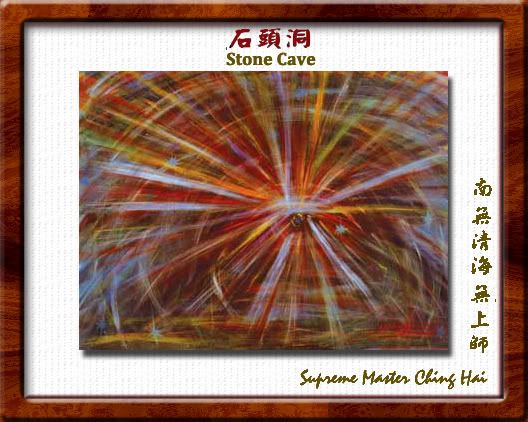 Labels: drink, loving hut, non-alcoholic, painting, singapore, suntec, Supreme Master Ching Hai, vegan
Lasm's story told @9:53 AM
At
Singapore Loving Hut
a meal of rice or dry noodle comes with a cup of free soup.
Today the free soup is the Old Yellow Cucumber Soup 老黄瓜汤 This soup is found in Asian countries and is said to be capable of warding off the "heat", which means it is good to take it in a hot country like Singapore.. Full of vitamins and goodness..
In Asian countries such as Malaysia and Singapore, it is common practice for the Chinese or Buddhist temple to offer free soup or drink for the weary travellers. Some temples in Singapore even offer free vegetarian bee hoon or rice noodle all year round !!
As a tourist visiting Los Angeles many years ago, we walked on the cold autumn day and came across a make shift soup stal by the walkway. The lady asked "Do you want some soup ?" I asked whether it is vegetarian, and she replied "yes". Then I took some in a cup and it was wonderful. In a cold day it really perks you up !
Later on, back in the comfort of the hotel room, it dawned on me that the free soup was given by the Salvation Army to serve the homeless people, not for a tourist like me !! It was heart warming to know that the spirit of charity finds its home in the hearts of people so far away..
Labels: loving hut, singapore, suntec, vegan
Lasm's story told @1:30 PM
Pho pronounced "fur" is the Au Lac ( Vietnamese ) common food, a version of thin or flat noodle soup.
The first time I took Pho is at the
Golden Era
at San Franciso. It was authentic Vietnamese food, cooked by Au Lacese cook. After eating the Pho, everywhere I go, I see the signs of Pho shop, which is strange..
This Singaporean version of Pho, equally delectable, is being offered by the Loving Hut at Suntec.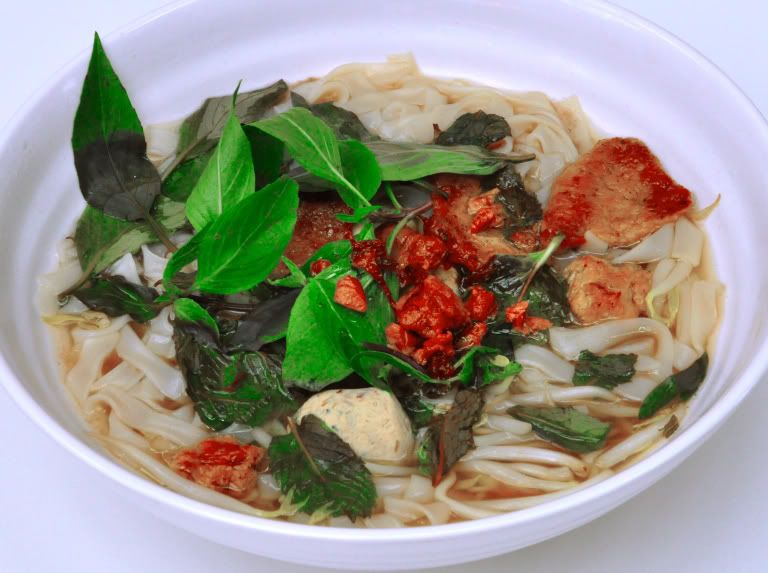 When we think of Pho, we think of the hometown of Supreme Master Ching Hia. It's a delicious food, and it looks like the real meat and taste like it, but there is no bad karma in eating vegetarian noodle !
Labels: loving hut, singapore, suntec, vegan
Lasm's story told @11:23 AM
Three Cups of Mercy 三悲鸡
Years ago when I was working at San Francisco, we used to drive down to San jose Street 11, and eat at the Vegetarian House, the very first vegan restaurant inspired by the teachings of Supreme Master Ching Hai.
At the
Vegetarian House
, one of the house specialty is the dish called Three Cups of Mercy.
There is a little story behind this name.. In the meat eating world, there is this very notorious dish called Three Cup Chicken which is commonly found in Asian eating places. What this dish does is to kill a whole chicken, then stewed it in strong spices such as garlic and ginger which works as stench suppressants, because you don't want a chicken corpse to smell like a carcase, you get the idea ?
So, anyway one of the strong condiments that was invented to "cure" the smell of dead chicken meat is to use a cup of rice wine, a cup of sesame oil and a cup of soy sauce. So for this reason, this particular dish is named in Chinese as the Three Cup Chicken 三杯雞
Just a few decades ago, before factory farming became common place, when you want to eat a chicken, you buy it live from the market, bring it home and kill it yourself. You will slit the throat and collect the chicken blood, because that yucky thing is food to the carnivores, so nothing is "wasted" except the life of one chicken.. And so the chicken endured the long suffocating death of losing its blood until its life is drained away and it died a cruel, merciless and torturing death.
When I looked at the name Three Cups of Mercy, I was deeply moved, because in eating of this meal, you do not cause any chicken to sacrifice their lives for the pleasure of your taste buds... The food is clean, pure and wholesome, and so is the name. It is such a noble name, such a noble purpose.
Three Cups of Mercy in Chinese, can also be translated to mean Three Reasons for Mercy, or Three Rounds of Mercy... The first thought of Mercy, we pray that chickens will be able to live a life without fear of unnatural death... The second thought of Mercy, we pray that chickens will have the freedom to live a free live, and have the space to walk and wander around in their natural environment. We pray that chickens can have the freedom to raise their family and care for their young ones, just like we do. The third thought of Mercy, we pray that chickens shall have sufficient food and drink, that they shall not be forcefully feed with unnatural chemicals or proteins in order to grow muscles for meat, or be fed unnatural food to hasten their ability to lay eggs.
Three Rounds of Mercy, The Three Reasons for Mercy, The Three Prayers of Mercy, Three Cries For Mercy, The Three Cups of Mercy... It is so deeply moving, because even just in the name itself, you can see the mercy of God, you can feel the Love of God, you can see that God grants life to all beings, and every living beings, whether chicken, cow or humans, ought to have the basicr ight of living, the basic freedom of life.
Labels: restaurant, vegan
Lasm's story told @5:31 PM
Feel free to pass the link to this video around.. It's an electronic SOS flyer distribution ;-)
http://s493.photobucket.com/albums/rr294/Lasm/LH-SUNTEC/?action=view&current=ab7e03b3.pbr
Labels: d90, loving hut, nikon, singapore, suntec, widget
Lasm's story told @3:04 PM
This is an attempt to create a budget movie.. Does it work ?
It employs one crew, one cast, one camera.. Every thing is captured using only one Nikon D90.
Labels: d90, loving hut, nikon, singapore, suntec
Lasm's story told @7:18 AM
We have our meals, we have our soup. Let us try some drinks and see what it is like..
Little Rabbit ordered Sunny Forest which she said afterwards, "Its very refreshing!"
Sunny Forest in Sunny Singapore !
Up to 75% of the amazon rain forest have been cleared for live stock breeding, all in the name of MEAT !!
Each day up to 250 species of flauna and flora have been driven to extinction, due to human activities.
How long more are we going to do this before we wake up ??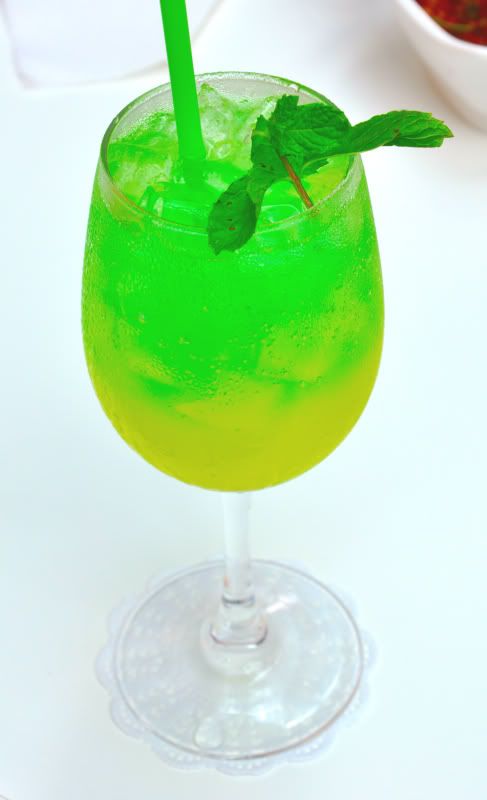 If we do not have the forest any more, where do the birds live ?
If we do not have the forest any more, where do the animals go ?
If we do not have the forest any more, will there be sunshine ?
If we do not have the forest any more, will we be able to survive ?
Every year billions of animals are being slaughtered ...
Wake up to the mad slaughter of animals for food, so we can stop our mistakes in time !!
Wake up, so that we can bring back the sunshine in our forest !!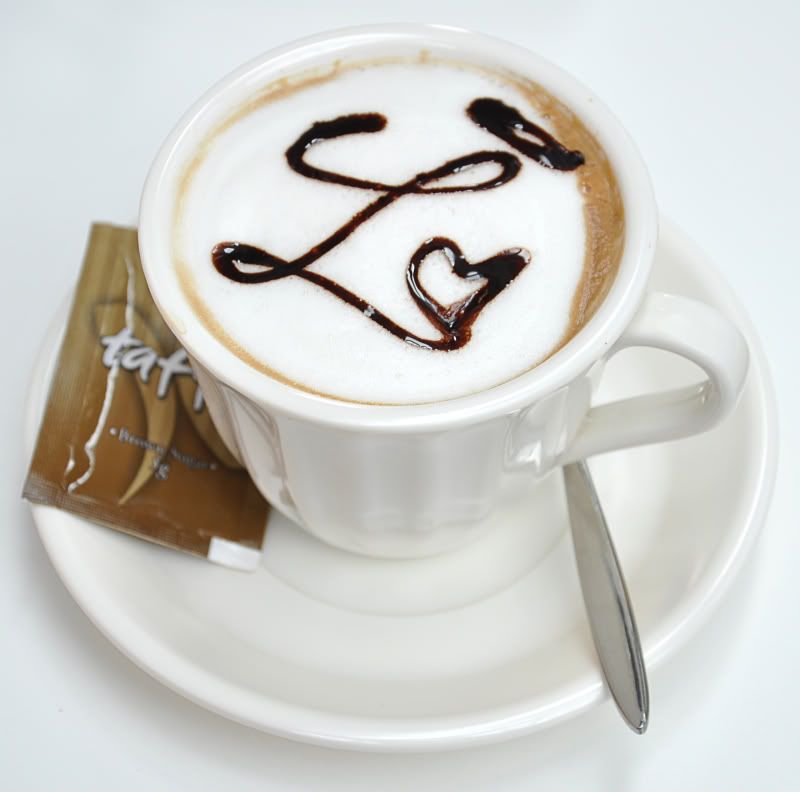 To mark the end of a wonderful afternoon meal, we ordered the hot drink Loving Hut Cappuccino.
We thank Supreme Master Ching Hai for Her Love. We thank Her for showing us as an example how we should live our lives and extend our Love to include our brother and sister animals.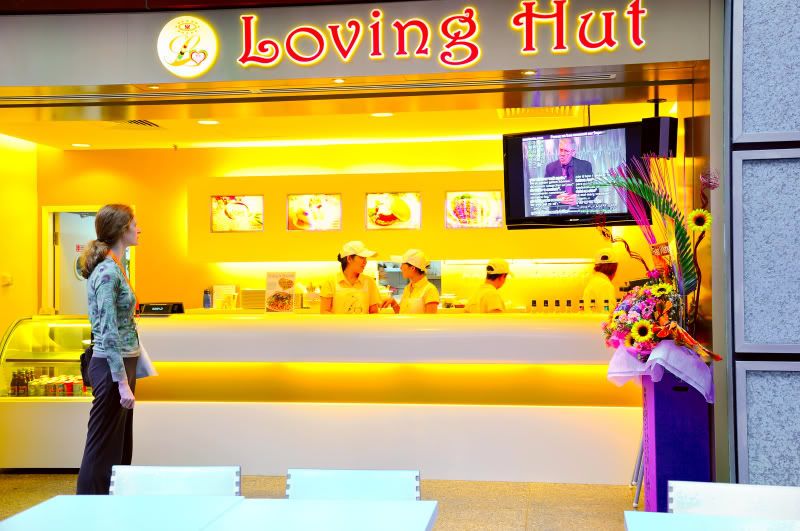 So bring your family down to Suntec City.. Enjoy the celebration of love.. Even for one day, eat without any guilt on your conscience.
For take-away or delivery, the number you can call is 62386755.
Labels: d90, drink, loving hut, nikon, non-alcoholic, singapore, suntec
Lasm's story told @11:52 PM
"Thy Word have I hid in my heart, That I may not sin against Thee."
The First Commandment of the Holy Bible is "Thou Shalt Not Kill"
The Lord is infinitely merciful. Hes does not wish to see suffering inflicted on even the least of the animals amongst us..
And so we placed an order for the blood-free Braised Garden Mushroom Soup, a delightful mix of mushrooms in thick gravy... Didn't really get to enjoy this dish as I was busy taking pictures of the food on the table..
"Blessed are the merciful, for they shall obtain mercy."
The two noodles and rice set actually comes with clear corn soup gratis.
And of course, peace begins with me, peace begins from this table, and from this meal for which we give thanks to the Lord..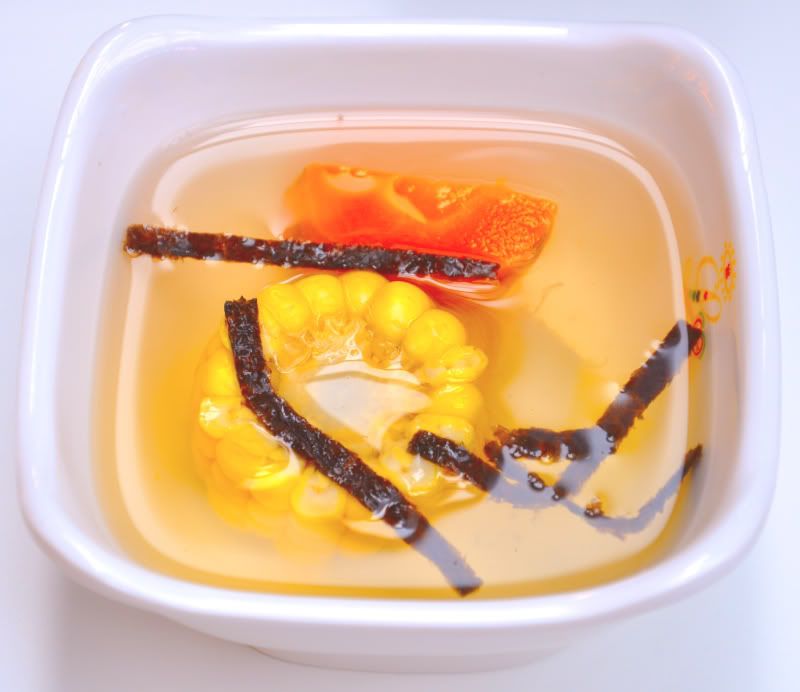 Satisfied and effused with soft golden glow, our conscience is as clear as the soup !
"Surely goodness and mercy shall follow me all the days of my life: and I will dwell in the house of the LORD for ever and ever."
Amen.
Labels: d90, good karma, loving hut, nikon, singapore, suntec
Lasm's story told @2:56 AM
A little rabbit came along and ate the Mee-Pok leaving us with the next all-time favourite Singaporean dish called Wanton Noodle (Dry) aka "one ton" noodle. The noodle weighs less than a tonne of course, so the name "wanton" refers to the deep-fried, crunchy, vegetarian dumplings. Dumplings are a favourite snack in this part of the world and in China it's a meal by itself..
Apart from wanton, there's the faux grilled meat, which of course incurs no animal cruelty at all. The colour and texture closely mimics the otherwise heavy karma laden version..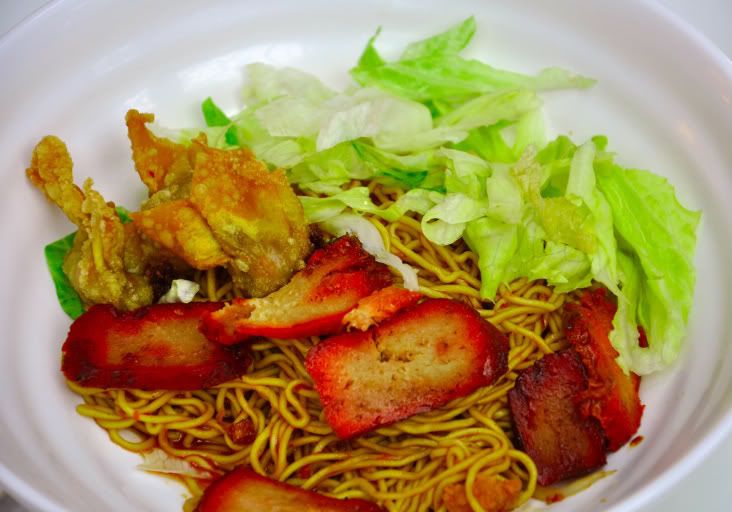 The next dish we ordered is the Rainbow Rice. Seccy used a fork to gingerly pry open the vegetables and carrots, revealing a colorful dish with a hopeful name, as we pray all beings live in safety, peace and tranquility..
May the day soon come when people will realize that they do not need to kill to fill their stomach. That is the Rainbow wish for all our animal friends.
When our hearts are filled with Love, we will see the world through Rainbow colors.
Labels: d90, loving hut, nikon, singapore, suntec, vegan
Lasm's story told @10:14 AM
On our second visit to Loving Hut, Suntec City in Singapore, we came prepared with the new Nikon D90 and tripod, determined to capture the color of the food being offered, if not the taste and smell ;-)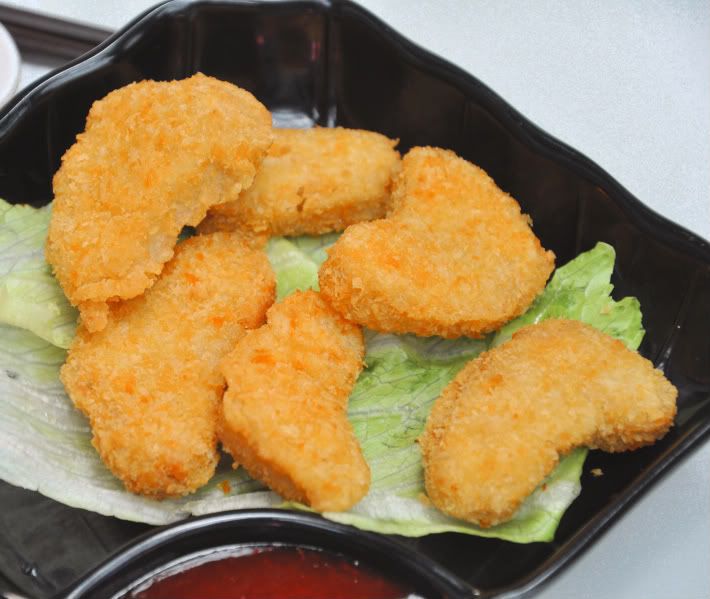 The teachings of Buddha, Jesus Christ and all enlightened Masters is about love and compassion towards all living beings. We tucked in to the savory golden nuggets, contented to know that no sentient beings' lives were butchered for us to survive..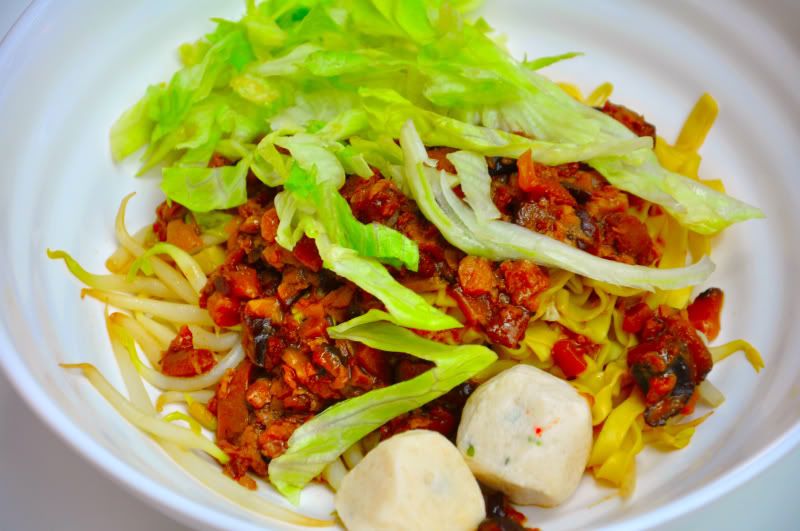 For main course we ordered the traditional dry Mee Pok, which is tasty, tangy and delicious. Mee Pok is one dish every Singaporean can identify with, it is growing up food for most of us, so when Loving Hut offered it as a vegan version it becomes my first love, and my forever love... Three cheers to Mee Pok without guilt !!
Mee.. Pok... Mee.. Pok... Mee.. Pok..
Labels: d90, loving hut, nikon, singapore, suntec, vegan
Lasm's story told @1:03 PM
Started off with a Panasonic 4GB SDHC card, the camera says it can store 1K pictures, took 900 photos under the following conditions
- Image size Large - Camera default (12MB per picture)
- Imagq Quality JPEG NORMAL (camera default)
- frequent use of LCD display for image playback, zooming in and out, browsing etc.
- frequent use of LCD for changing modes, aperture, speed checking etc.
- dozens of short 20 seconds video clips in normal SD mode
- only a handful (about a dozen) of Live View shooting
- VR on lens is OFF
- No Flash used at all
By the end of the day, the Nikon EN-ELe3 battery had the red low battery indicator, and only 400 pictures storage left in the card..
The Nikon D90 is tested up to 100K shutter clicks... so that means if you take 1K pictures a day, the D90 will be out of gas at the end of three months, by which time, a new model will be announced ;-)
Lasm's story told @11:30 PM
This camera is amazing !!! There are so many gagedtery buttons for you to play, it's really an adult toy lover's dream..
First day photo shoot at the Singapore Bird Park. Some impressions...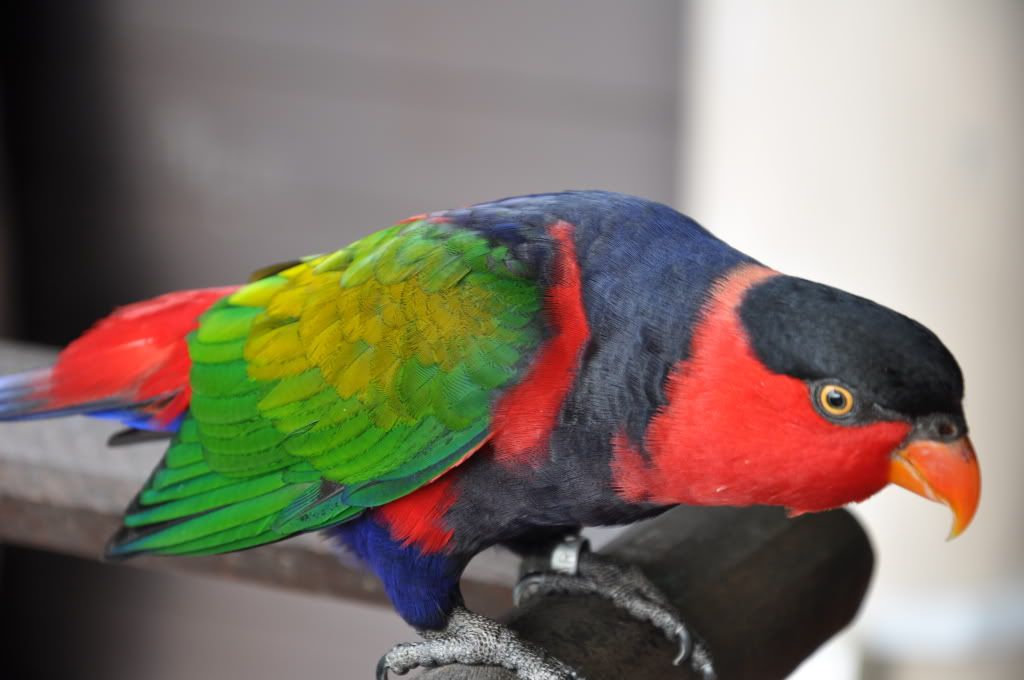 There are too many two-buttons operation, for example, exposure compensation and flash compensation that definitely needs customization. But I do not have the manual at the time of shooting..
Lasm's story told @11:06 AM
OK, now I got your attention,
All the bloggers out there, please help yourself and grab the Supreme Master Television widget that you can see on this blog page. I will make a smaller sample later..
You can customize the size, color to suit your blog page.
The Supreme Master Television widget contains RSS feed on the Supreme Master Television blog page.
Just click on the "Get Widget" button ! You can see the very cool example on the top left corner of this blog.
Enjoy !!
Lasm's story told @11:28 PM
More raving reviews of the
Milpitas, California USA outlet
of the Loving Hut restaurant. You can see photos of the food being served at Loving Hut Milpitas.
Reading these reviews makes a mouth watering experience..
Labels: good karma, loving hut, usa
Lasm's story told @10:40 AM
The latest Loving Hut restaurant in USA is receiving glowing reviews at food web sites..
Here is one example at
yelp website
which is located at Palo Alto, California, USA. So if you are working at one of those IT companies in the Tech Park, head on to the much acclaimed Loving Hut..
The food is good everywhere... have you tried the Loving Hut in Singapore yet ?
Labels: good karma, loving hut, usa
Lasm's story told @10:05 AM
Tell me what is your favourite collection and I will try to add it ...
Now, my favourite is the TV and radio interview series, so I have collected all of them in one playlist for the conveniece of watching it, in case you want to follow any of the episodes.
Enjoy !
Lasm's story told @1:49 AM
One Pound of Beef = 4 hamburgers
One Pound of Beef uses 10,000 to 20,000 liters of water !
One Pound of Beef consumes water equal to 6 months of shower, that is 180 showers !!
One Pound of Beef loses 90% of its original energy.
One Pound of Beef requires 7 pounds of crops to produce, grains which can be used to feed hungry people directly...
Go Vegetarian for ONE WEEK in your life !! How much water and resources you can save to
help the environment !!!
Labels: stop eating meat
Lasm's story told @5:09 AM