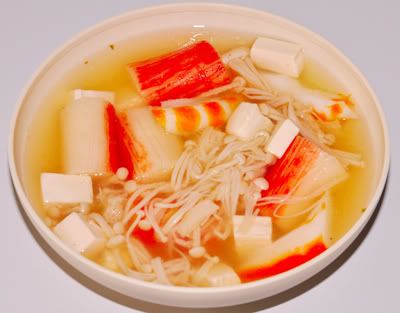 Here we see how to use the ingredients from our vegetarian shopping to make a simple homey soup that your mother will be proud of.
This simple and easy soup has four ingredients: faux prawn, veggie stick, tofu cubes and golden mushrooms..
If you know how to boil a pot of water, you know how to cook vegan soup !!
Just boil it together with the ingredients, add vegetarian mushroom seasonings to taste, a little bit of salt and pepper, and you are done !!
This soup served with a plate of rice offers enough nourishment and joy after a hard day's work !
Start learning vegan cooking today ! It's fun, it's joy, it's life saving..
Labels: home cooking, vegetarian
Lasm's story told @11:30 AM