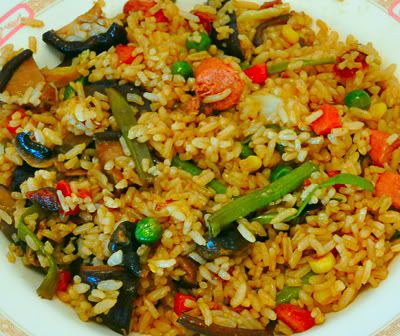 Cooking at home is a very simple affair. The main thing to remember is to be creative and use whatever ingredients happen to be available that day. Here's a simple recipe for a delicious vegan fried rice..
Ingredients:
1) 1 plate of over-night rice, left over from last evening dinner.
2) 4 dried shitakae mushrooms
3) 2 fresh round white mushrooms
4) 3 kangkong stalks or other green vegetables
5) some leaves of white cabbage
6) half a cup of mixed vegetables, carrot cubes, green peas and corn
7) 1 vegetarian sausage
8) 2 stalks of long beans
9) 1 teaspoon vegetarian seasoning powder
10) 1 teaspoon vegetarian ketchup
11) 1 tablespoon soy sauce, light and dark type
12) 2 teaspoon of salt
13) 2 tablespoon of vegetarian cooking oil
Preparation:
1) soak the 4 dried shitakae for 10 minutes till soft.
Cut away the stem, and cut the rest of mushroom in thin slices.
2) cut the round white mushroom in half, then slice the rest.
3) cut the long beans into 1 and half inch pieces, small enough to cook fast.
4) cut the stalk of kangkong into 1 inch pieces, so that it can cook thoroughly in
minimum time. Just tear the leaves into manageable pieces, it will shrink when cook.
5) tear off some leaves of white Chinese cabbage, make it small pieces for easier cooking.
6) cut 1 or 2 small vegetarian sausage into pieces.
7) prepare a bowl of mixed carrot cubes, green peas and corn to add color to dish.
8) pour the vegetarian seasoning powder into a small bowl, add the salt and 1 tablespoon
of light and dark soy sauce each. Add a little bit of water and dissolve the seasoning.
Cooking:
1) Pour some cooking oil into a flat frying pan or use the Chinese wok.
2) heat the oil for a while, then add the soften shitakae mushroom pieces and long beans. Cover the frying
pan to let the mushroom cook a while and avoid the oil spilling out.
3) Add in the cabbage leaves and kangkong. Stir fry for 3 minutes.
4) Add in the mixed veggies, corn, carrots and green peas. Stir fry a while in medium heat.
5) Add in the vegetarian sausages and pour the mixed vegetarian seasoning.
Cover the frying pan and stew the vegetables for 5 minutes.
6) Check that the vegetables are well cooked and the kang kong and cabbage have shrunk in size. Add in the
plate of over-night rice and stir fry throughly to let the rice soak up all the seasoning. The fired rice should
be relatively dry after some frying. Add in more salt or tomato ketchup to taste.
The fried rice should turn from white to a nice golden yellow after soaking up the vegetarian seasoning.
Bon vegan appétit !
Labels: home cooking, recipe, vegan
Lasm's story told @12:09 AM