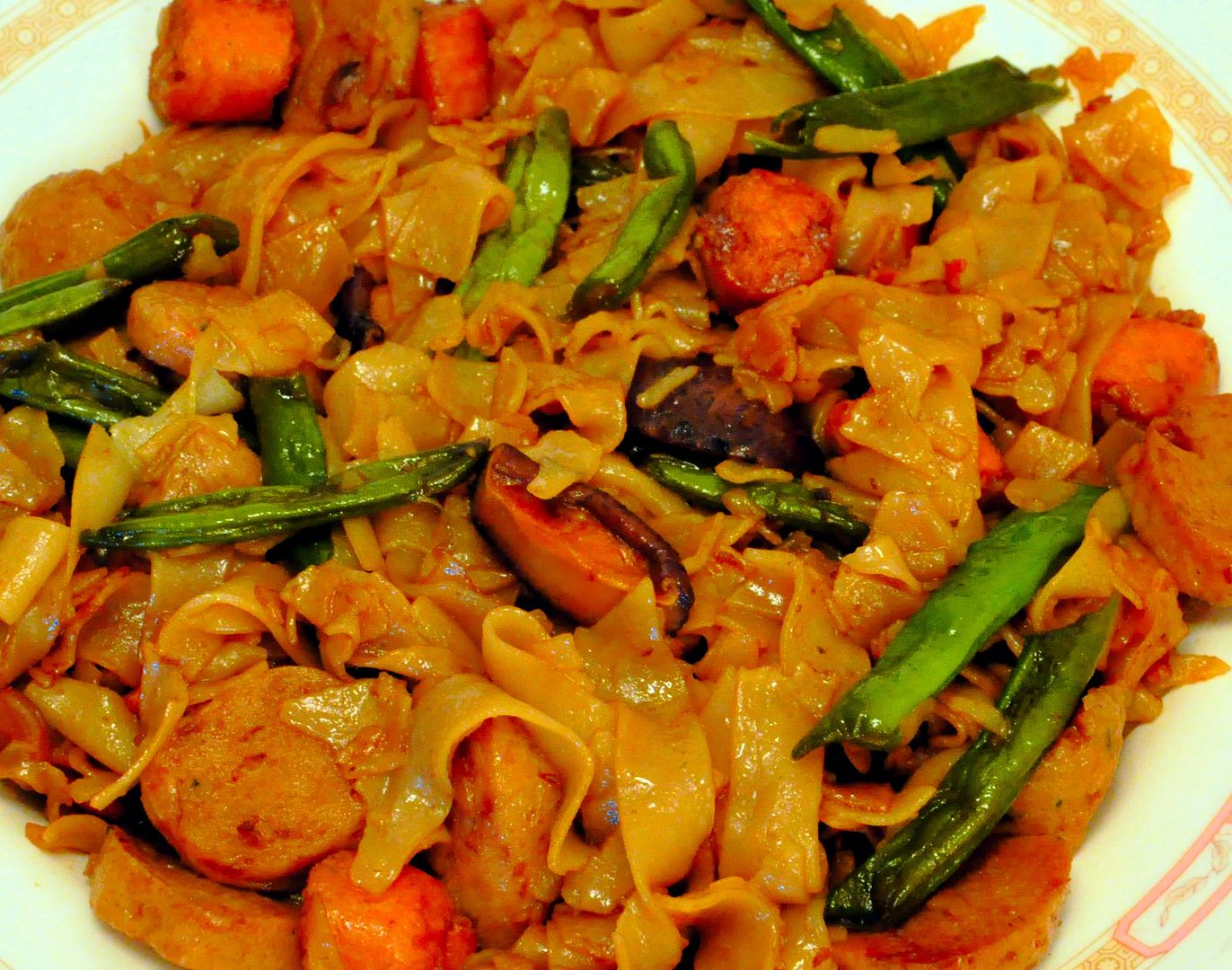 When I think of fried kway teow, I remembered the mobile hawker near my house in my youth. The kway teow seller had a secret ingredient that keeps his customer coming to him again and again. That secret ingredient is the sweet sticky black soy sauce. Well I don't have the sweet sauce, so I have to make do with ordinary dark soy sauce.
Ingredients:
3 small vegetarian sausages
4 vegetarian fish balls
3 dry shitakae mushrooms
1 bunch of french beans
1 packet fresh hor-fun or kway teow
2 teaspoon vegetarian seasoning powder
3 teaspoon dark and light soy sauce
1 teaspoon sea salt
1 tablespoon vegetable cooking oil
Preparation:
1) Soak the dried shitakae mushroom in a small bowl of water for 10 minutes
till it soften. Then cut off the stem and slice the mushroom.
2) Cut off the end part of french beans and chop into 1 inch pieces.
3) slice the vegetarian fish ball into half, then slice each half again.
4) chop the vegetarian sausage into small manageable pieces.
5) prepare a small bowl to add vegetarian seasoning powder, dark and light soy sauce and mix thoroughly.
Cooking:
1) Heat up a flat frying pan or Chinese wok with some cooking oil.
2) Add in the shitakae mushrooms and french beans first, stir fry a while and cover the frying pan or wok with a cover for 3 minutes.
3) Add in the vegetarian sausages and sliced vegetarian fish balls and stir fry another 3 minutes.
4) Pour in the seasoning and soy sauce mixture and cover the pan to let the vegetables cook for 5 minutes.
5) Finally put all the hor fun or kway teow and stir fry for another 5 minutes until the kway teow becomes dry. You can optionally add in some bean sprouts. Add some sea salt and optionally some pepper and tomato ketchup if you prefer.
Labels: home cooking, vegan
Lasm's story told @6:57 PM