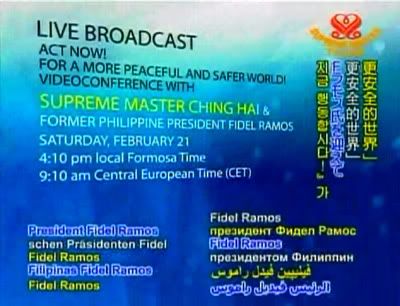 Supreme Master Television will broadcast live conference with former Philippines President Fidel Ramos today February 21 2009
at 9:10 a.m. Central European Time (Paris)
4:10 p.m. Local Formosa Time
This Video Conference is entitled : Act Now For a More Peaceful and Safer World.
The Guest of Honor will be the former President of Philippines Mr. Fidel Ramos and Supreme Master Ching Hai.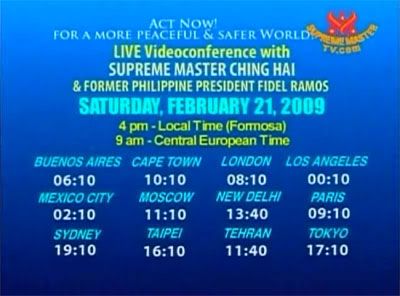 Saturday Feb 21 2009
Buenos Aires 6:10
Mexico City 2:10
Sydney 19:10
Cape Town 10:10
Moscow 11:10
Taipei 16:10
London 8:10
New Delhi 13:40
Tehran 11:40
Los Angeles 0:10
Paris 9:10
Tokyo 17:10
Labels: news
Lasm's story told @12:22 PM

Subscribe in a reader
Hi. I am the stone who lives near the lampost. I am given 20cents a day to not throw myself into the light.
Websites

Supreme Master Television

God's direct contact

God's direct contact (Chinese)

Loving Hut Singapore

The Celestial Shop

Atlas of Our Changing Environment

Kids for Saving Earth

Lifestyle Changes for a Healthy Planet !

I Will Save The Earth !

Romanian Vegan Recipes

Light Ship

350 parts per million

Save the environment

Please tag upon visit...
Rules:
- Strictly NO vulgarities
- One is to use their real name or nickname

Thank you! Happy tagging!
Media Interview with Supreme Master Ching Hai