Today's Painting of the day, we will look at an enchanting oil painting by Supreme Master Ching Hai entitled "Mangosteen" 山竹果
Mangosteen is often called the "Queen of Fruits". It has a soft, juiyc flesh within a hard fibre shell which is easy to break. If you get the juice stain on your clothes, it can be hard to wash off. It is said to counter the "heatiness" you get from eating too much durian, the "King of Fruits".
At Loving Hut, Suntec Singapore, the recommended dish of the day is the jolly Jolly Rice.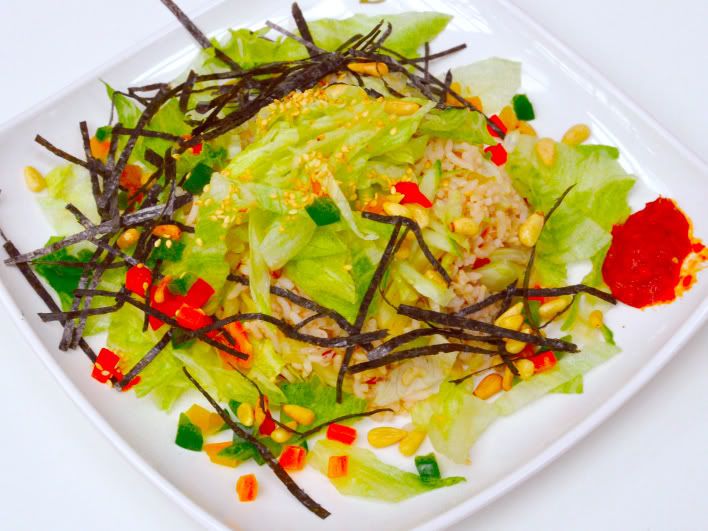 Beautiful to look at and delicious to taste, this is heavenly food ! Yummy !! Lots of vegetable goodness for your body and soul.
From Bible, King James Version, Isaiah 1:11-16
11
To what purpose is the multitude of your sacrifices unto me? saith the LORD: I am full of the burnt offerings of rams, and the fat of fed beasts; and I delight not in the blood of bullocks, or of lambs, or of he goats.
12
When ye come to appear before me, who hath required this at your hand, to tread my courts?
13
Bring no more vain oblations; incense is an abomination unto me; the new moons and sabbaths, the calling of assemblies, I cannot away with; it is iniquity, even the solemn meeting.
14
Your new moons and your appointed feasts my soul hateth: they are a trouble unto me; I am weary to bear them.
15
And when ye spread forth your hands, I will hide mine eyes from you: yea, when ye make many prayers, I will not hear: your hands are full of blood.
16
Wash you, make you clean; put away the evil of your doings from before mine eyes; cease to do evil;
以 賽 亞 書 1:11-16 (Chinese Union Version (Traditional))
Chinese Union Version (Traditional) (CUV)
11 耶 和 華 說 : 你 們 所 獻 的 許 多 祭 物 與 我 何 益 呢 ? 公 綿 羊 的 燔 祭 和 肥 畜 的 脂 油 , 我 已 經 夠 了 ; 公 牛 的 血 , 羊 羔 的 血 , 公 山 羊 的 血 , 我 都 不 喜 悅 。
12 你 們 來 朝 見 我 , 誰 向 你 們 討 這 些 , 使 你 們 踐 踏 我 的 院 宇 呢 ?
13 你 們 不 要 再 獻 虛 浮 的 供 物 。 香 品 是 我 所 憎 惡 的 ; 月 朔 和 安 息 日 , 並 宣 召 的 大 會 , 也 是 我 所 憎 惡 的 ; 作 罪 孽 , 又 守 嚴 肅 會 , 我 也 不 能 容 忍 。
14 你 們 的 月 朔 和 節 期 , 我 心 裡 恨 惡 , 我 都 以 為 麻 煩 ; 我 擔 當 , 便 不 耐 煩 。
15 你 們 舉 手 禱 告 , 我 必 遮 眼 不 看 ; 就 是 你 們 多 多 地 祈 禱 , 我 也 不 聽 。 你 們 的 手 都 滿 了 殺 人 的 血 。
16 你 們 要 洗 濯 、 自 潔 , 從 我 眼 前 除 掉 你 們 的 惡 行 , 要 止 住 作 惡 ,
Labels: loving hut, painting, singapore, suntec, Supreme Master Ching Hai, vegan
Lasm's story told @12:01 AM