We take a little break from our regular feature of
Loving Hut
Restaurant to take a look at one of the many vegetarian restaurants in Singapore.
Today we bring you to Simei Road, opposite Melville Park near the entrance to the PIE, here you find the Metta School, and the restaurant inside the school is actually a vegetarian restaurant, some of the cakes in their bakery section have eggs in them, but other wise all their meals are vegetarian and eggless.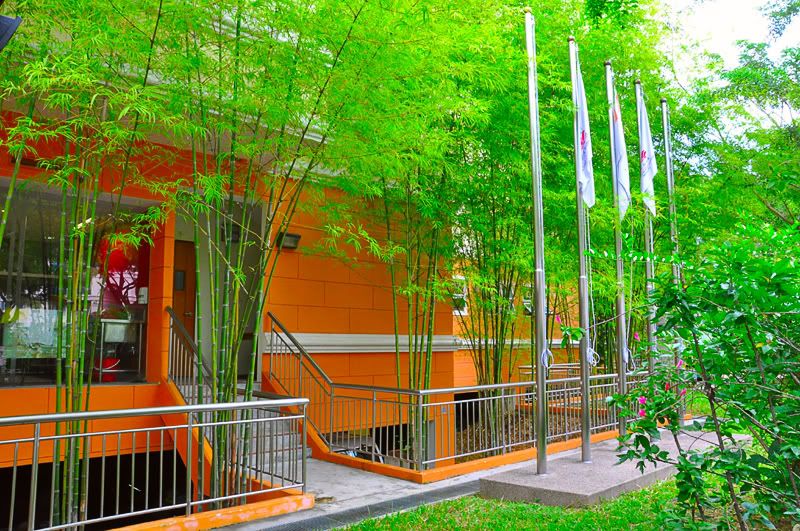 The entrance to this restaurant is lined with beautiful bamboo trees. The
Metta School
admits children with mild intellectual disability and the restaurant serve as a canteen for the students, offering them cheap vegetarian food every day at discounted prices.
The restaurant is of course open to the public every day and is conveniently located at the bus stop. If you are coming from Simei MRT, bus 9 will bring you right to the door step after about 3 or 4 bus stops.
When you step inside, the place is clean and brightly lit with air conditioning.
If you are thinking of a venue for a vegetarian or vegan wedding, this could be an ideal place.
That reminds me about my Buddhist vegetarian friend's wedding many years ago, which was held at the Kingsland Vegetarian Restaurant at Toa Payoh. Unfortunately Kingsland closed that outlet and the latest one is now located at a coffee shop, at the junction of Telok Ayer Street and Boon Tat Street, next door to the Hokkien Huey Kwan. If you are at the coffee shop, notice that the stall selling the peanut pancake is vegan !!
There's a small buddhist temple in the same compound so it is not unusual to see monks patronising this restaurants and in fact some of the cooks or helpers are renunciates in the Buddhist tradition.
The area to the left have bigger tables so it caters for 10 or more people on the same round table. A little privacy is afforded by some appropriately placed bamboo partitions.
A unique feature of this place that deserves mention is that it supports the arts and they do feature art painting exhibition by local artists from time to time. You can eat or dine right below any of the paintings in style !
In the next part, we shall take a look at the food being offered here.
Labels: school, vegetarian
Lasm's story told @1:50 AM