It's cool !! The Sunday vegan special dish at Loving Hut BMC is none other than Singaporean's all time favourite food - vegan fried kway teow.
You've got to come to Bukit Merah Central Block 161 to see and taste this delicious dish. The vegan egg is incredible !! Oh, just look at that !! Look at the scrambled vegan egg !! Don't ask how it's done.. Just eat it and enjoy !!
A cool plum juice to go with the vegan fried kway teow !! Cooling in the hot climate.
This is the drink which came from the fruit that is said to quench the thirst of soldiers merely by mentioning the name of plum !! Can you imagine how thirst quenching it is ??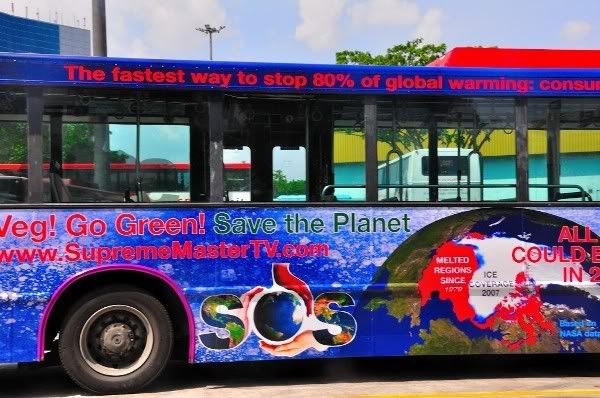 Take the SOS bus no. 131 from St. Michaels to Bukit Merah Central, it stops at Shenton Way just opposite DBS Building, so the office lunch crowd can head straight to Loving Hut !!
Labels: bukit merah central, loving hut
Lasm's story told @11:19 AM

Subscribe in a reader
Hi. I am the stone who lives near the lampost. I am given 20cents a day to not throw myself into the light.
Websites

Supreme Master Television

God's direct contact

God's direct contact (Chinese)

Loving Hut Singapore

The Celestial Shop

Atlas of Our Changing Environment

Kids for Saving Earth

Lifestyle Changes for a Healthy Planet !

I Will Save The Earth !

Romanian Vegan Recipes

Light Ship

350 parts per million

Save the environment

Please tag upon visit...
Rules:
- Strictly NO vulgarities
- One is to use their real name or nickname

Thank you! Happy tagging!
Media Interview with Supreme Master Ching Hai