Here's a look at the recently concluded SOS Global warming exhibition held at Suntec City Loving Hut.
Many thanks to Loving Hut and Pangat Authentic Indian Cuisine. Both restaurants very kindly sponsored this exhibition event to raise Singaporean's awareness of the disastrous effects of global warming and the critical link between climate change and the meat-based diet.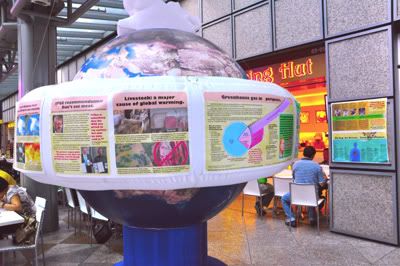 Many people shopping at the Suntec City Mall were attracted to the imaginative decor of the exhibition and stopped by for a meal. They were given SOS flyers and watched the Supreme Master Television which was set up at a corner of the venue.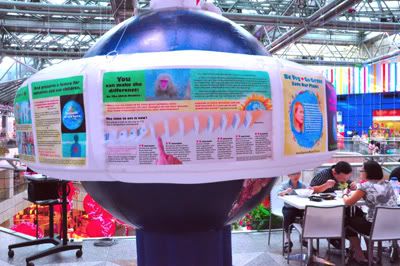 May many more Singaporeans become aware each day of the critical state of our planet, and make the new year resolution to Be Veg and Save our planet !
Labels: loving hut, save the earth, suntec
Lasm's story told @2:51 AM

Subscribe in a reader
Hi. I am the stone who lives near the lampost. I am given 20cents a day to not throw myself into the light.
Websites

Supreme Master Television

God's direct contact

God's direct contact (Chinese)

Loving Hut Singapore

The Celestial Shop

Atlas of Our Changing Environment

Kids for Saving Earth

Lifestyle Changes for a Healthy Planet !

I Will Save The Earth !

Romanian Vegan Recipes

Light Ship

350 parts per million

Save the environment

Please tag upon visit...
Rules:
- Strictly NO vulgarities
- One is to use their real name or nickname

Thank you! Happy tagging!
Media Interview with Supreme Master Ching Hai